What's new in Version 5.3
Approvals Module
Commission Tracking Software approvals modules are now out of the box functionality in Performio, you can easily configure an approval process in minutes. You can also configure multiple approval modules. For example, commissions approvals, sales contest approvals and more.
Below is a screenshot of the configuration page for approval module. We have added a new 'Create Approval Module' option in the content module section. You can easily configure this like any other content module item.
NOTE:
The Name field is not supposed to have space or any special characters.
Approval Module automatically creates PVAL schemas using this name field. So even if you change the Approval Module Name, the modified name will not get updated in the PVAL schema, for this we need to go to Result PVAL schema and manually change the PVAL schema path with the modified name for the corresponding approval module.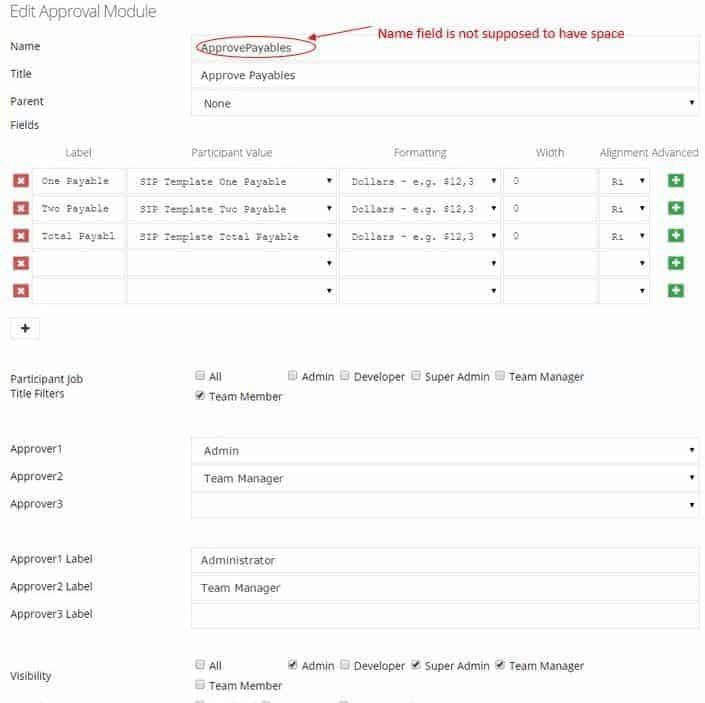 As soon as you create the content module, the pvals related to approval module gets created under Result Schema automatically. As you can see you can configure up-to 3 approving job titles per approval module. Once the configuration is done, the module in front-end is as below: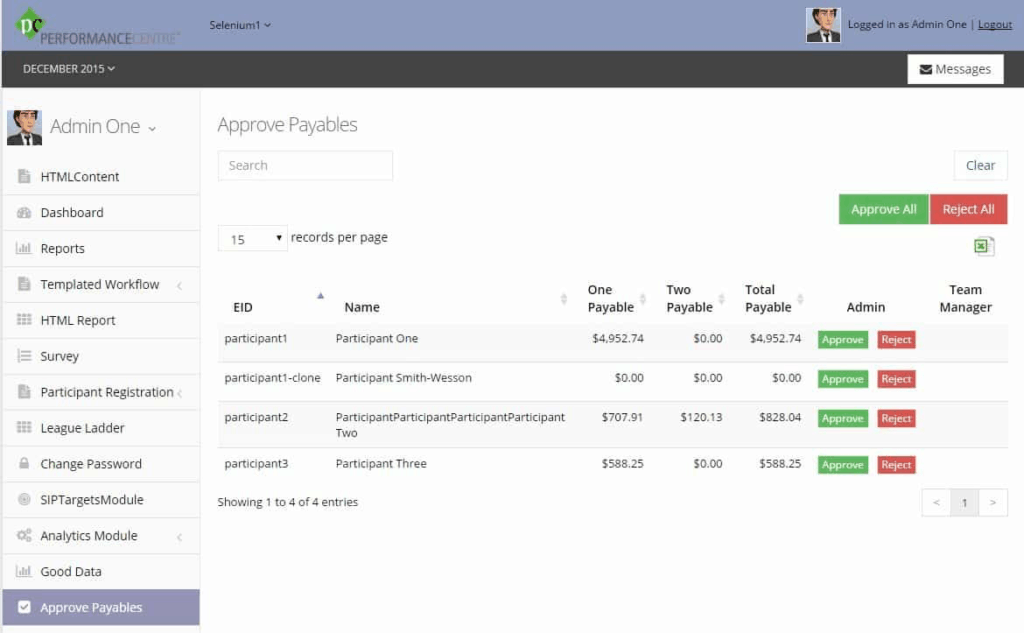 The participants with job-titles selected as approver job title will have the option to 'Approve'/'Reject' the entries for people under him in his team. Participants with job-titles selected in 'Visibility' section of config page can only view the approval statuses by approver1, approver2 and approver3.
The approving person also has the option to 'Approve All'/'Reject All' the entries that are displayed in the module. Once approved, the details are captured in the participants PVAL tree, which later can be used for reporting.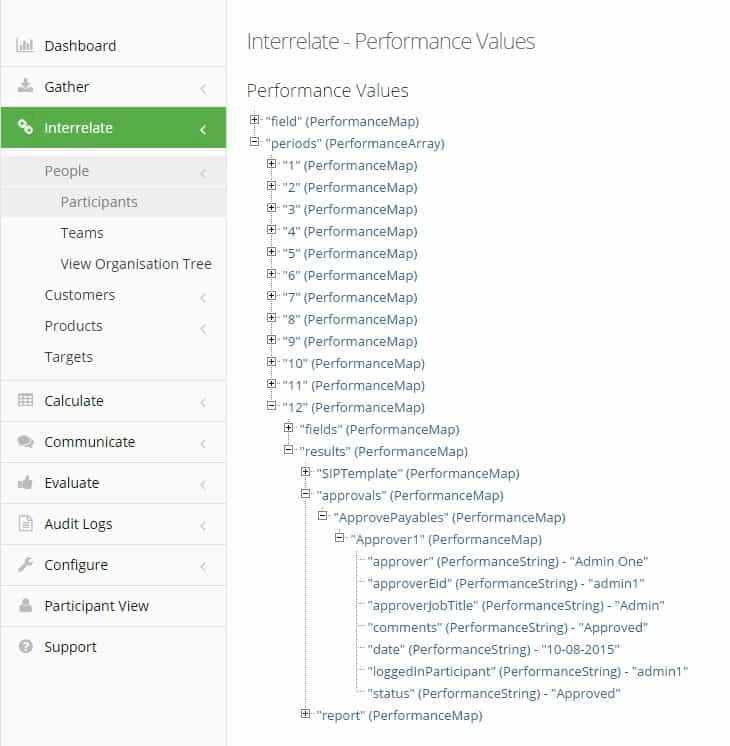 With this new module, we have introduced a new 'Approval Status' option in period status page. This is to make sure that the approvals/rejections that are done for participants in a period whose has been mapped to Approval Status, remains unaltered if a SIP calculation is rerun. In other words, SIP calculation ignores all participants whose commissions/payables are approved/rejected, when running for a period whose status is mapped to Approval Status
For the SIP calculation to work as mentioned above, it is important to map the approval status to one of the period statuses in Configure/Miscellaneous/Period Statuses.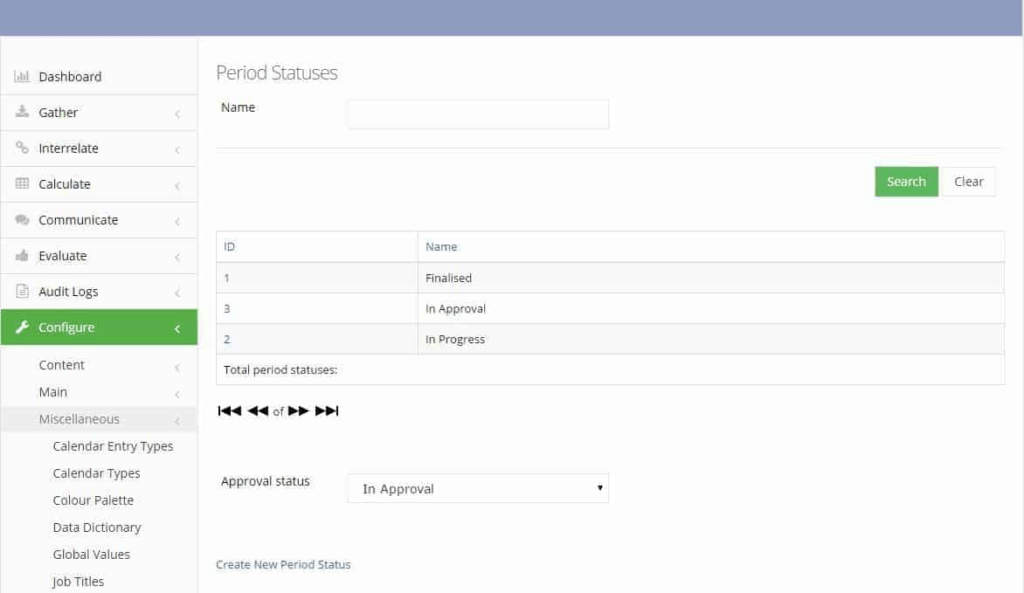 In the above screen shot, the period status 'In approval' is chosen as Approval Status. So when approvals/rejections are done in a period whose status is in 'In approval', SIP calculation will ignore participants whose commissions/payables are approved/rejected in that period.
Note: In the configuration page, you can select all the PVALs from result schema only.
Messaging
The new messaging feature (Chat as Workflow) allows administrators to communicate directly with participants and vice versa. It is designed to support ad hoc communication around the approval process in particular.
Administrators can go to participant console (Interrelate / People / Participant) and click on the new 'Messages' button to send a message to the selected participant. This message should be sent to a period so that when the participant logs into the participant site, they can view the message in a particular period.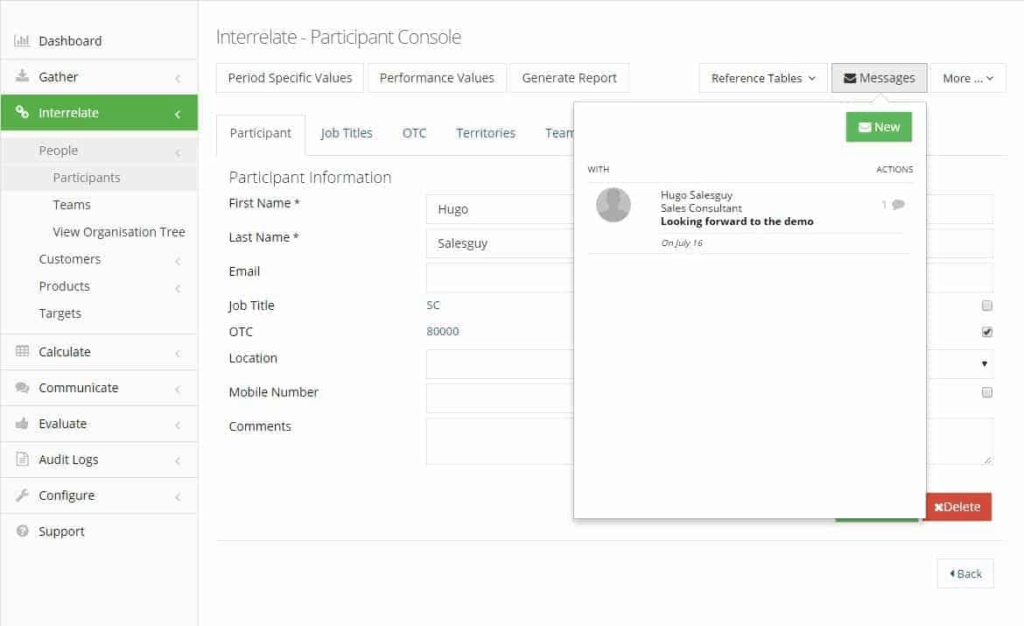 Once a message is sent by the administrator to a participant, the same can be viewed by other administrators in the system either from the individual participant console or from the admin dashboard. In other words, the admin dashboard will display all the messages exchanged between administrators and participants.
When a participant logs into the participant site, there will be a new button for 'Messages' on the top right side. Depending on the period he selects he can read and reply to messages received in that period.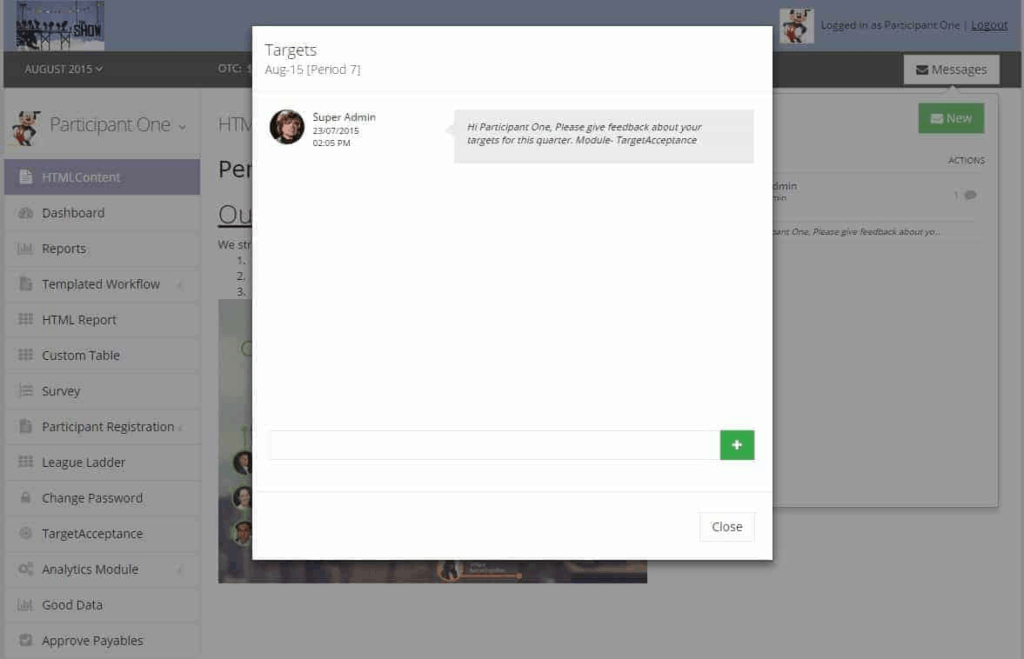 If at all this feature has to be disabled, you can do it by setting the value of system property 'messagingEnabled' to false in the admin site.
Task Manager 2.0
In version 5.3 of Performio, the task manager feature has been given a major upgrade. You have a variety of new features in task manager which are:
Create recurring tasks
Assign a task to a period
Add sub-tasks to existing tasks
Add an attachment to a task
Filter tasks by the due date, period, 'assigned to you'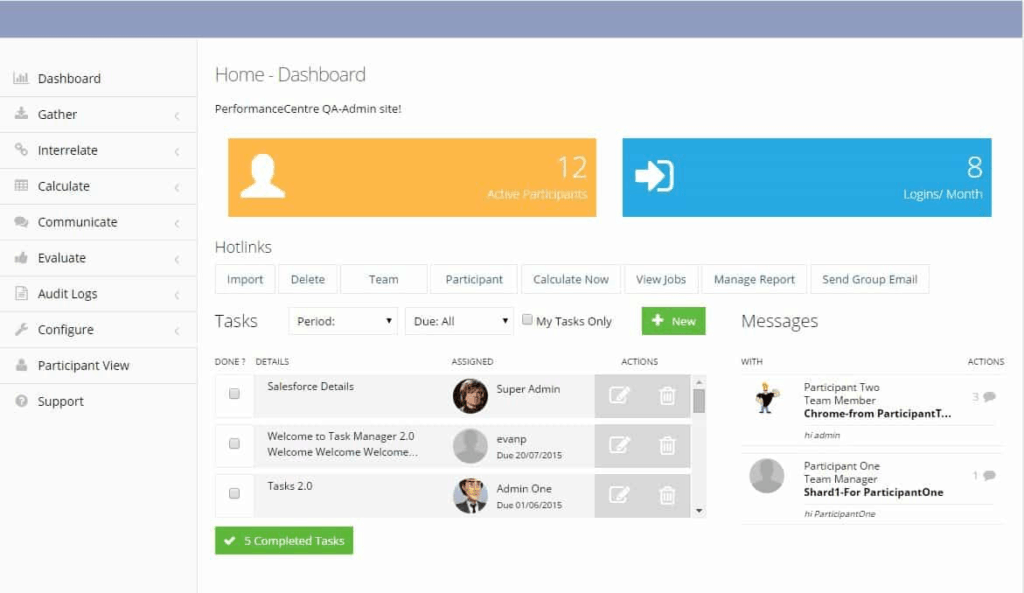 Once you get upgraded to version 5.3 you will see the below sample task already sitting under the tasks section explaining the above-mentioned points.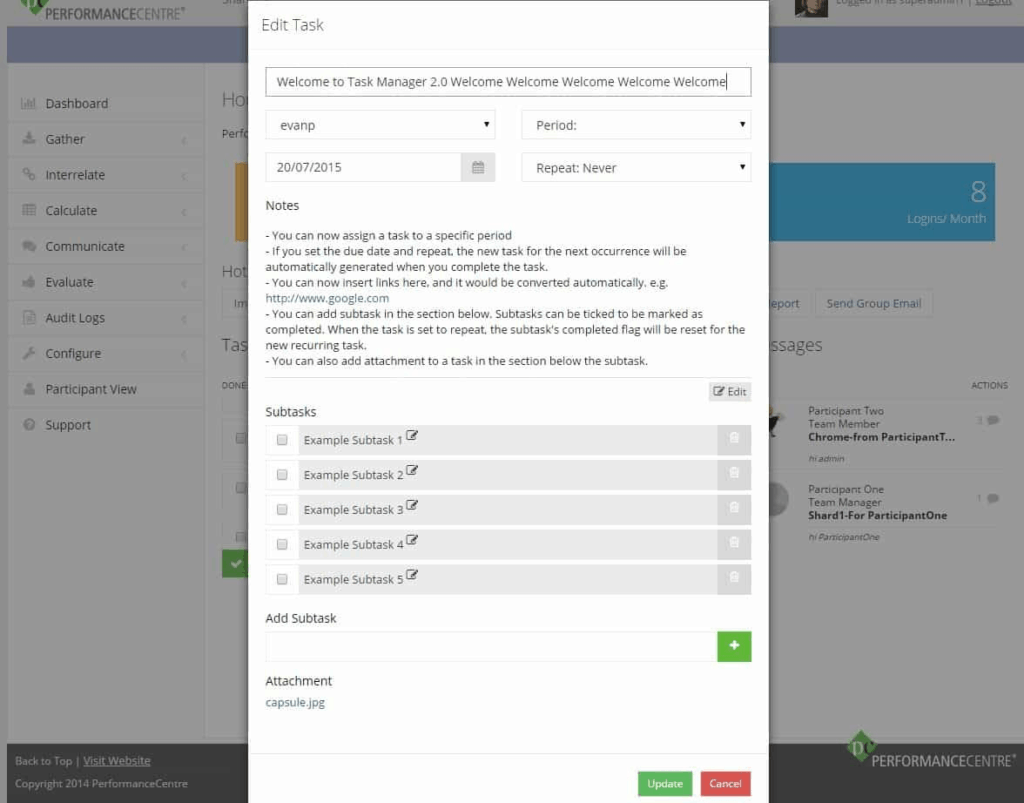 Results Viewer
In the new version of Performio, we have a new module 'View Results' under Calculate section which displays all the Sales Incentive Plan (SIP) component payables along with few participant details. This saves you time from creating admin ad hoc reports, generating it and validating results every time you run a SIP calculation.
More fields can be displayed in this module by clicking on 'Add Custom PVALs' button.
This module can be turned on/off by setting the values of system property, 'commission Approval Enabled' to true/false.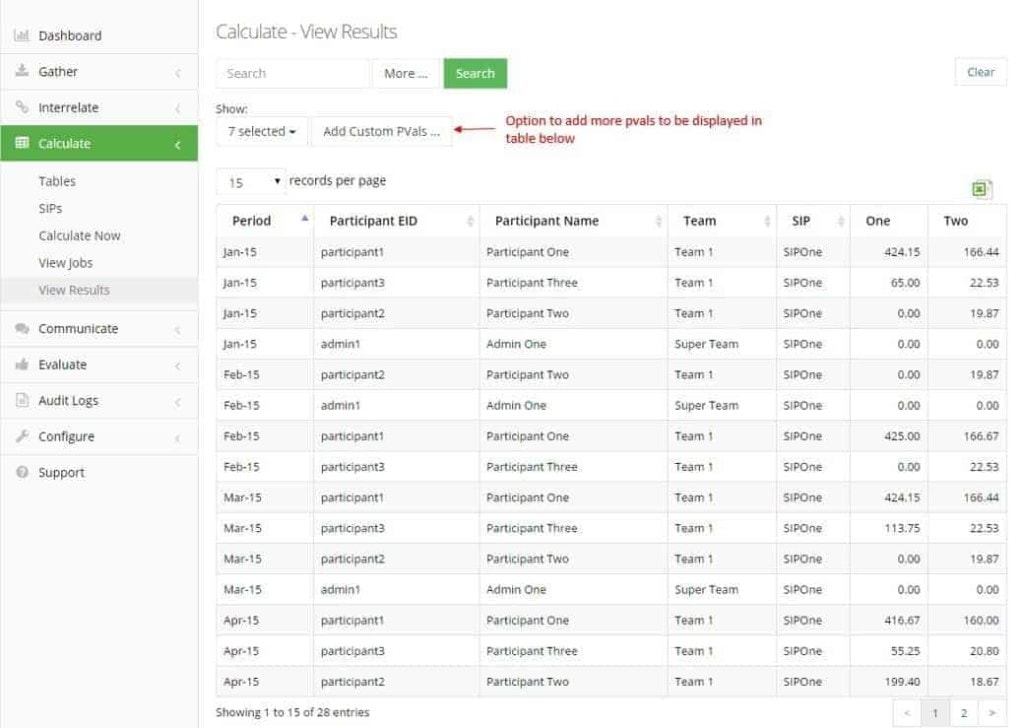 Note: In the 'Add Custom PVALs' section, you can select all the PVALs from result schema only.
Participant Console Upgrade
From version 5.3 of Performio, the 'Edit Participant' page in pcadmin is called 'Participant Console'. Along with this name change we have the option to easily navigate from a participant to a custom table that references the participant. You can also send and view messages from the console.
In the above screenshot, 'Reference Tables' drop down will display all the custom tables in which 'Member EID' is selected as a foreign key for columns with name Participant EID. Clicking on a table from this drop-down list will take you straight to that custom table with results filtered for the participant you chose in participant console. If you don't see any table names in this drop down that means there are no foreign keys selected for any of the existing tables. This has to be added from back-end for existing tables. Please give us a call or raise a ticket in ZenDesk and we will do this for you.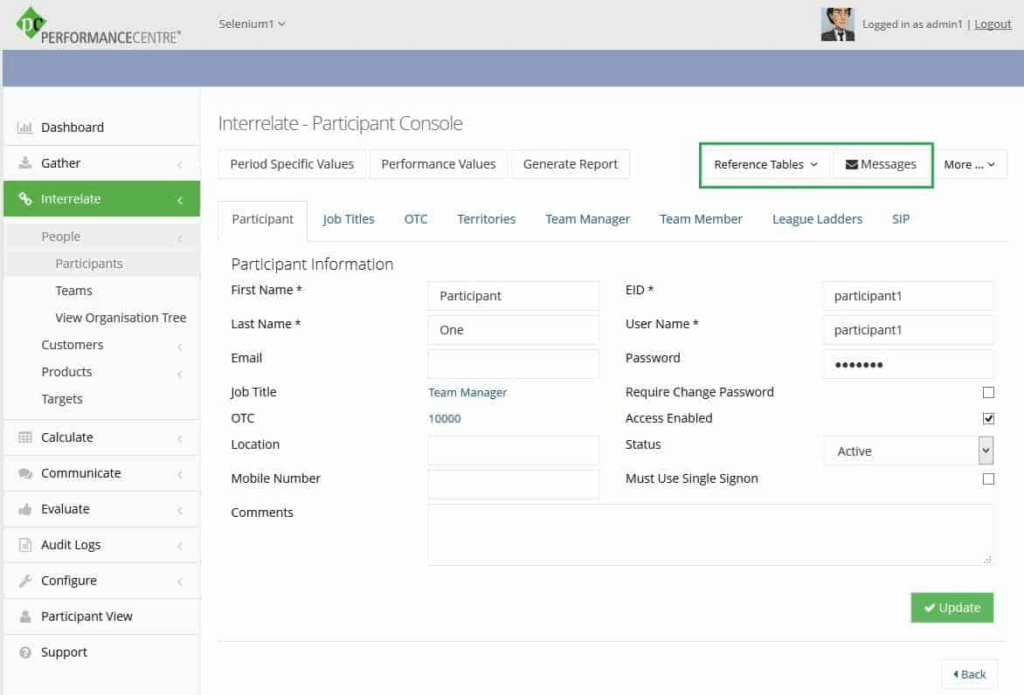 Also, Participant Console is the place from where administrators can send messages to participants by clicking on the 'Messages' button.
Note: For reference tables to filter correct values, the column with foreign key 'Member EID' must have name Participant EID. This feature will be extended to columns with any other names in coming release.
Table Categorization
The tables in Performio can now be categorized. We have added a fixed set of categories :
Source data tables
Reference data tables
Sales Incentive Plan tables
Destination tables
Analysis tables
League Ladder tables
Also, in version 5.3 of Performio, you can mark a table as inactive so that it does not appear in the table list under Calculate/Tables.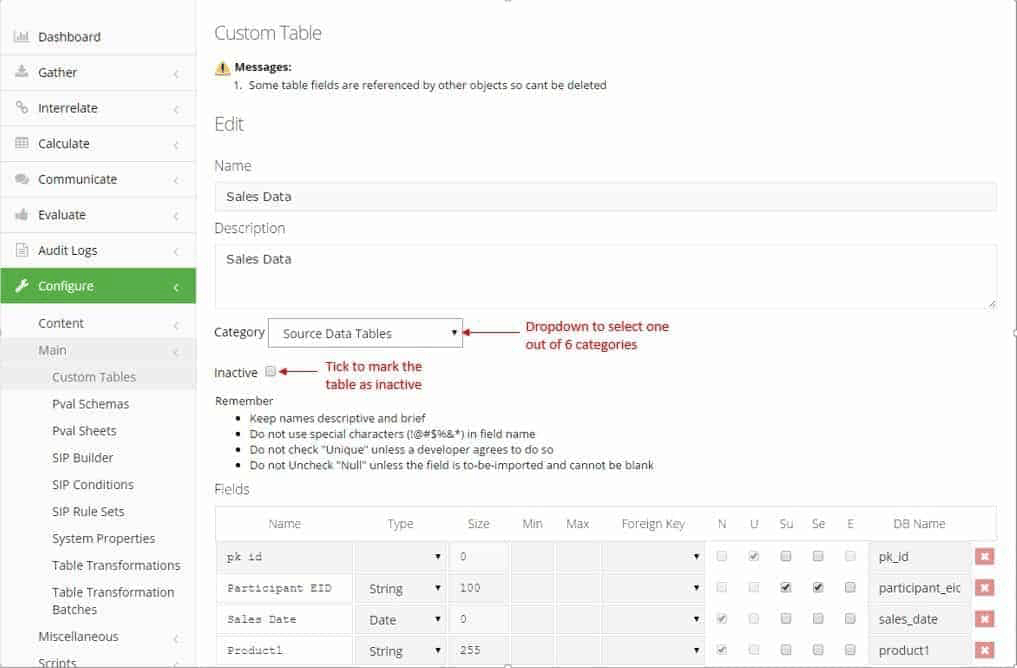 This new feature makes it easier to filter tables in Calculate/Tables.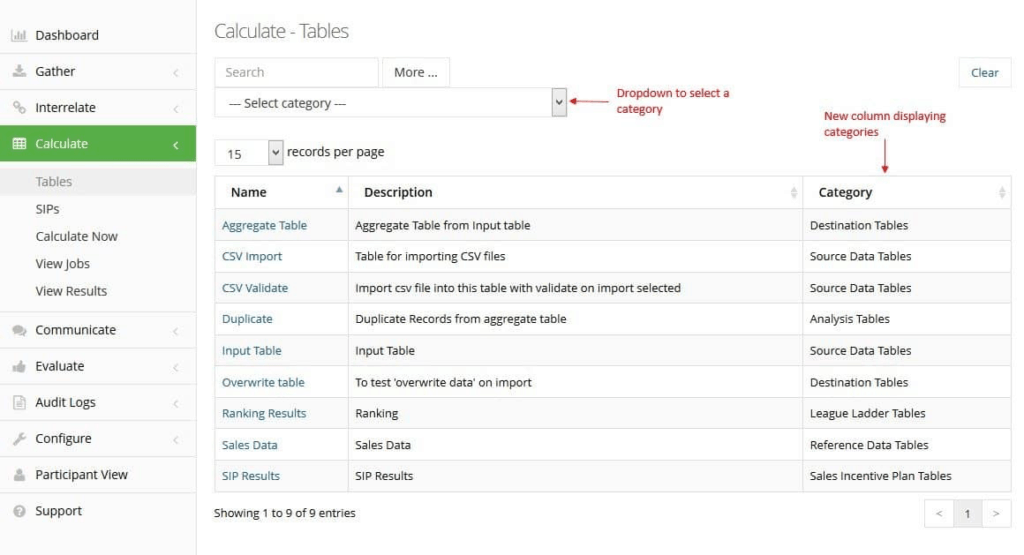 Group Email Template
If you ever had to send the same email to the participants on a regular basis, you might have saved the matter of the email somewhere. Now, with version 5.3 of Performio, you get the option to save the template in Performio itself which can be reused, updated or deleted.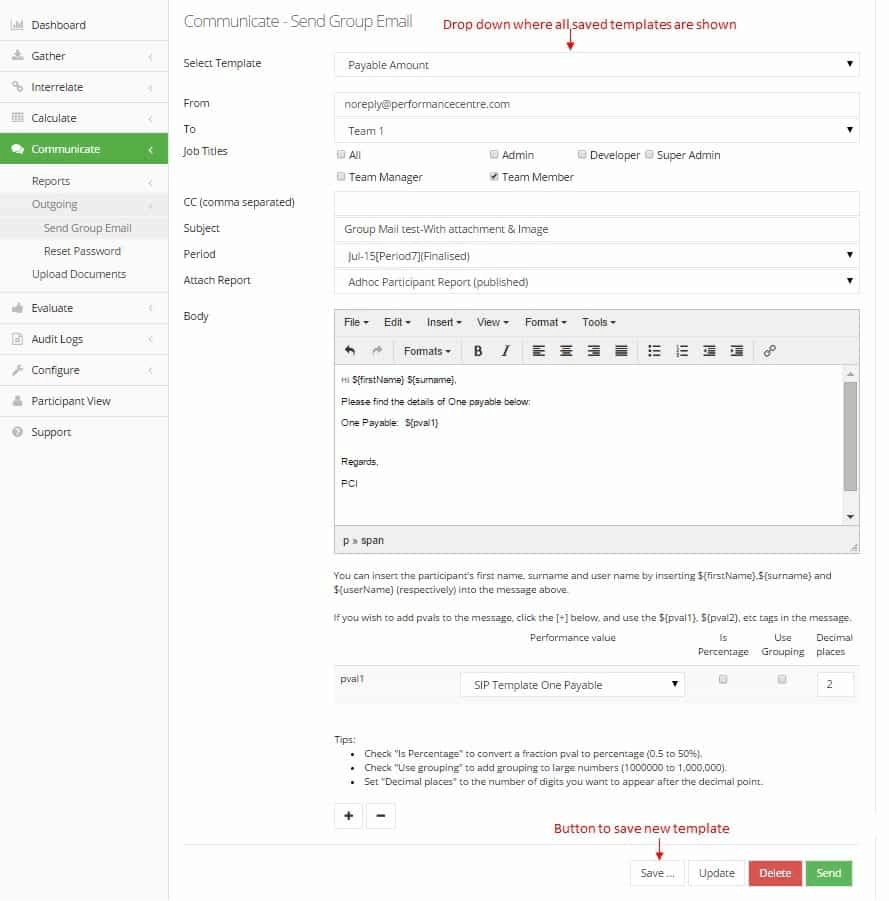 Once the template is saved, it would appear in the drop down for 'Select Template'. It can then be updated or deleted or even saved under a different name.
Note: We do not have the option to insert images in group email. Also if links inserted in group email/reset password email point to any document in Communicate/Upload Documents, it will open up via email only of your server is in a single-shard/single-tenant mode. This functionality wont work for clients who have a multi-department server or multi-tenant-server.
Product Enhancements
Apart from the many cool new features, we have also done some enhancement to our product in this release.
Reset Password sends link to change password
Performio will no longer send you a new password via email whenever you click forgot password or whenever admin resets password for you. Instead a link will be sent to you to reset your password.
Note: You can use this link only once, once used, the link will no longer be valid
Advance option in Big Number Module
Big Numbers in dashboard module now got an advanced feature. There is a vast number of icons that can be assigned to a big number. Also, these icons and colours for big numbers can be set for a specific range of value. You can configure three value ranges per big number and assign different color and icon to different ranges.
New visualization options for Capsules
The capsules in the dashboard can now be shown as a gauge too. In the edit dashboard capsule page, there are two options for 'visualization' Bar and Gauge. Below is an example of a dashboard focusing both bar and gauge option.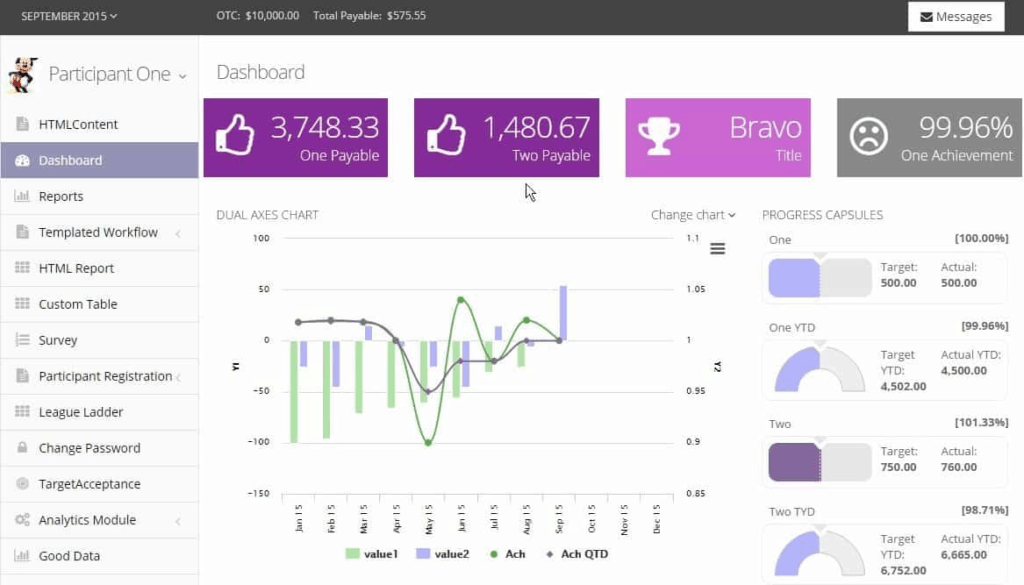 Dual Axes charts
You can now configure dual axes graphs on dashboard. See screenshot above.
Bar Charts with both positive and negative values
Bar charts can now display both negative and positive values on the same graph.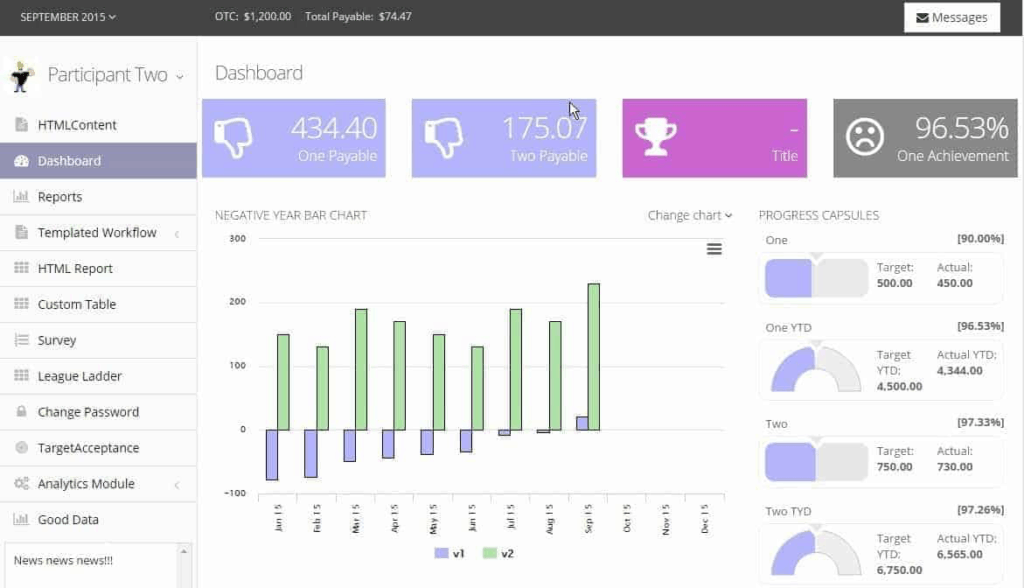 Start and End Periods for Big Numbers, Capsules and Graphs
Capsules, Big Numbers and Graphs in dashboard module can have a start period and end period just like any other content module.
Formatting options in Capsules
Just like big numbers, capsules also have the option to select format.
Audit Log entry for new actions
Audit log now captures the following actions on admin site too:
Create, Update, Delete SQL transformation scripts
Create, Update, Delete Calculation Script, Utility Script, and Import Script
League Ladder reports with participant 'avatar'
While setting up an HTML report module under Configure-Content Modules, if a league ladder report in selected from the drop-down list for 'Reports' you will now see a new option 'Display Avatar'. If this is selected, the front end module will display the participant's profile image next to their names in the report. See sample screenshot below.

Note: If there are two people in you organization with the same first and last names, the default avatar would be displayed for them. This is because we use the combination of first and last names to get the avatar. So if you have an option to update the names with middle names, this would resolve the issue.
More informative subject line for Templated Workflow emails
An example: Templated Workflow item #12 created by Participant Two (Incentive Plan: SIPOne) has been approved by Participant One and is now assigned to Admin One.
Known Issues & Workarounds
Below are some of the limitations/known issues and workarounds:
Matrix component
Matrix component related PVALs do not automatically show up in the 'Add Custom PVALs' list by default. This is because these PVALs are not created automatically in the result schema. So if you want to display them in Results Viewer, please add those PVALs manually in the result schema first.
League ladder avatars
League ladder avatars will not display correctly for users who have the same name as another user in the league ladder. If there is an option to add middle name or initial, please do that and this will be resolved.
Participant Creation
From version 5.3, the system property 'passwordPolicy' is set to 'strong' by default, so when you create a participant from Interrelate/People/Participant/Create Participant, please make sure that you enter a strong password which includes a capital letter, special character and numeric characters. Or you can leave password field blank and then reset password for that user so that he/she gets a link to create their own password.
There won't be any issue with creating participants with simple/strong password from version 5.4. Proper validation message will be thrown on the screen.
Title Source for Capsules
This is fixed in version 5.4
In the edit capsule module, please choose title source as 'Title from input' as the other source 'Title from PVALs' does not work as expected.
Problems with Evaluate Graphs
Under Evaluate section the graphs Report Usage and Login Summary under Comms is not working as expected.
Organization Tree Problems
We have released a hot fix for version 5.3 to address this issue
With the latest upgrade from Google Chrome browser, our Organization Tree search on front end does not work as before. Please use other browsers(Firefox, IE-11, Safari) till we release a hot fix for this issue.
Advanced option in Ad hoc Report
This issue has been fixed in version 5.4
In ad hoc report when you select the checkboxes for 'sum' and 'hide' for the same field, the report generation fails. Workaround for this issue is to take out the checkbox for the sum for a hidden column.