What's new in Version 5.3.1
Performio is now part of the Okta Application Network, which means Okta is pre-configured to work out of the box. Okta is a leading cloud-based Single-Sign-On (SSO) solution for enterprises providing simple and secure Identity Management. Being part of the Okta Application Networks means it is now easier than ever for your users to log in to Performio from your Okta server.
To add Performio to the Okta Single-Sign-On Server simply search for Performio in the "Add Application" screen of Okta. It opens a wizard that will set up SSO for Performio in Okta.
Read the full tutorial here: How to Configure SAML 2.0 for Performio
Okta is the foundation for secure connections between people and technology. By harnessing the power of the cloud, Okta allows people to access applications on any device at any time, while still enforcing strong security policies. It integrates directly with an organization's existing directories and identity systems, as well as 4,000+ applications.
How to Configure SAML 2.0 for Performio
Supported Features
The Okta/Performio SAML integration currently supports the following features:
SP-initiated SSO
IdP-initiated SSO
For more information on the listed features, visit the Okta Glossary.
Configuration Steps
Send an email to Performio Support and request that they enable SAML 2.0 for your account.
Attach the following IDP Metadata:
<code>Sign into the Okta Admin Dashboard to generate this variable.</code>
Performio will provide you with the Entity ID and ACS URL that you will need to configure SAML in Okta.
In Okta, select the Sign On tab for the Performio app, then click Edit.
Scroll down to the ADVANCED SIGN-ON SETTINGS section.
Enter the Entity ID and ACS URL values (step 3) into the corresponding fields.
Click Save.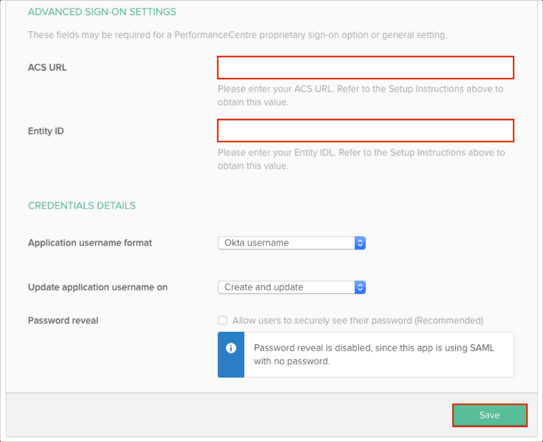 Done!