What's new in Version 5.4
Release 5.4 is part of a major upgrade to the underlying sales commission management software architecture of Performio. The aim is to increase application security, scalability, and performance. Much of these changes are under the hood and not directly visible to the customer. What you will see is snappier response times of the website in version 5.4, and faster calculations times coming in 5.5 and 5.6.
Add and Remove Individual records in Custom Tables
From version 5.4 of Performio, you do not have to clear a table and re-import files to add one new record to an existing custom table. You can now do that in just a click.
Adding Individual Records
Navigate to the table in which you want to add a record Calculate/Tables/"Table Name". You will see a new link 'Add New Record' towards the bottom of the table. Clicking on that link will pop up a screen with all the fields in that table.
Just make sure that you enter all the mandatory fields and click on the 'Add' button. When a field marked as 'not nullable' is left blank, a validation message will be displayed (as shown on the screenshot below). Similarly, if you enter a text value in a numeric field, an appropriate validation message will be thrown.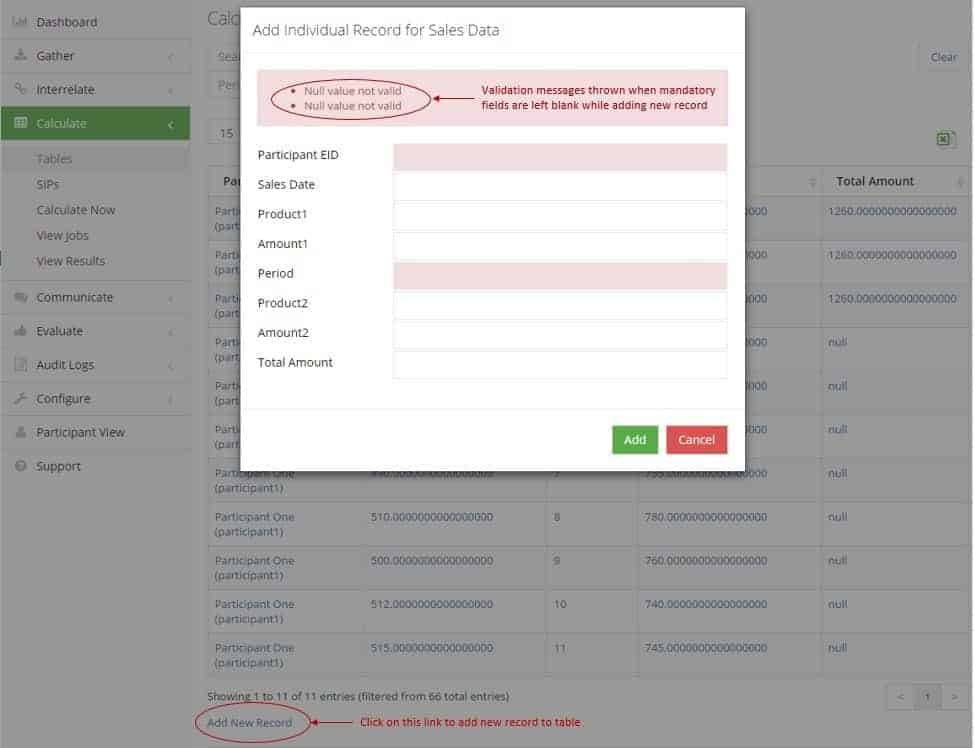 Deleting Individual Records
To delete records row by row, navigate to the table Calculate/Tables/"Table Name" then search for the record you wish to delete and click on that record/row. You would see a new button 'Delete'. Click on it to delete that record. A confirmation message will be shown and clicking on 'Delete' button there will delete the record from the table.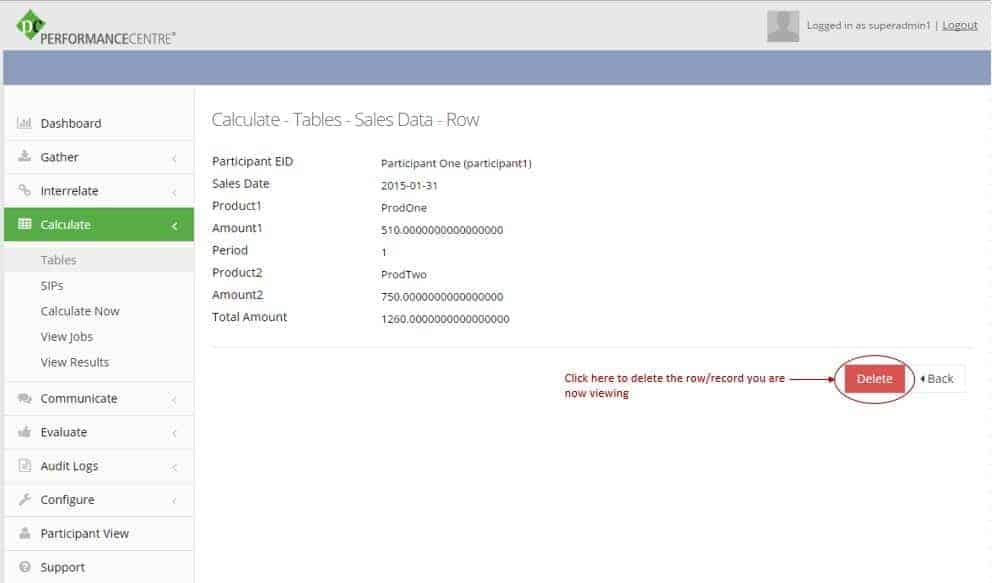 Audit Log Entries
For every action you do on the custom tables; Adding New Row or Deleting a row, an audit log entry will be created under Audit Logs/Administrator. See below screenshots.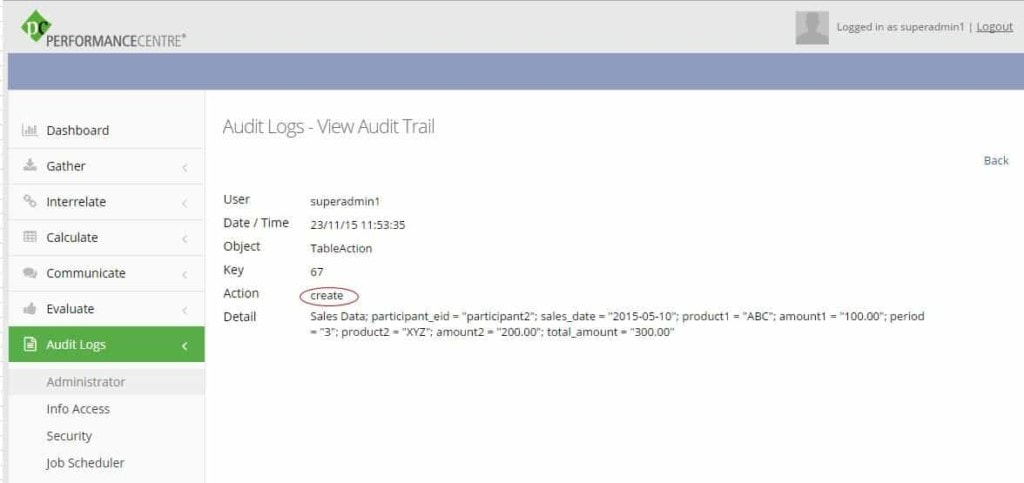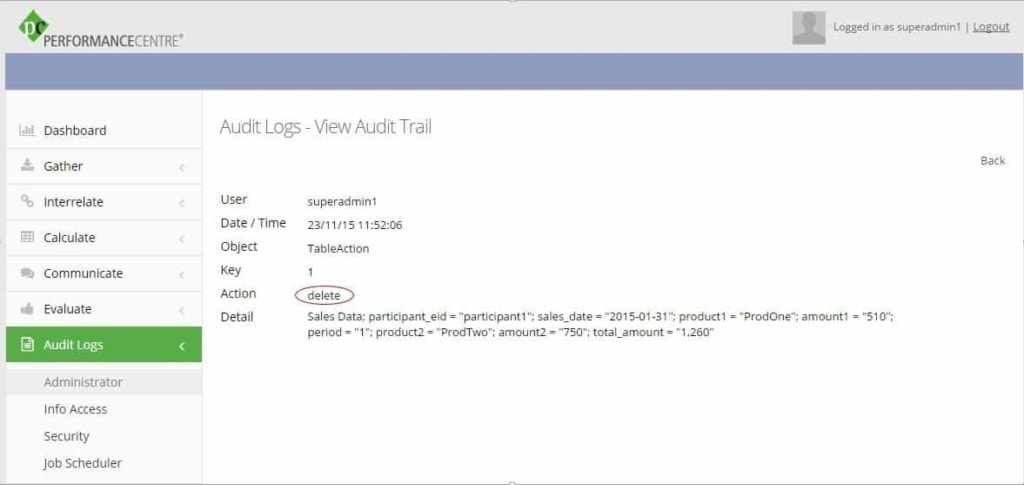 SAML For Multi-Tenancy
Performio already provides SAML SSO for our single-tenant clients. With version 5.4 we expand the SSO capabilities offering SAML SSO to all our clients. SSO can be set up with any SAML 2.0 capable Identity Provider. Performio supports both Service-Provider as well as Identity-provider initiated SSO workflows.
Each tenant will have its own SSO configuration. Tenants can also be configured to use REST SSO or no SSO at all.
The modification of the SSO configuration to change the Entity ID is done on the fly and it doesn't require a server restart.
For auditing and support, all SSO logins and login failures are tracked in the Performio Audit Trail. This Audit trail is visible to all Performio administrators.

Any SAML 2.0 capable SSO server can be used as the central login server. Two popular SSO Servers have added Performio to their suite of pre-configured Service Providers, making it even easier to integrate with Performio: Okta and Microsoft Azure Active Directory.
Product Enhancements
We were able to include a number of product enhancements in version 5.4 that solve some of the most pressing issues.
No restriction on number of approving job titles in Approval Module
Previously there were restrictions on the number of job titles that could be selected as approvers in the Approval Module. It has since been removed. Any number of job titles per approver can be selected in the content module config page now. See below screenshot.
Note: If the same job title is selected for Approver1, 2 and 3, it is an invalid scenario and Approve/Reject buttons will be displayed only for Approver1.
View Scheduled Job Log
Logs of scheduled jobs are now in a downloadable format. Instead of the view button, you just need to click on the 'Download' button and log gets downloaded. You can open it in any editor you have.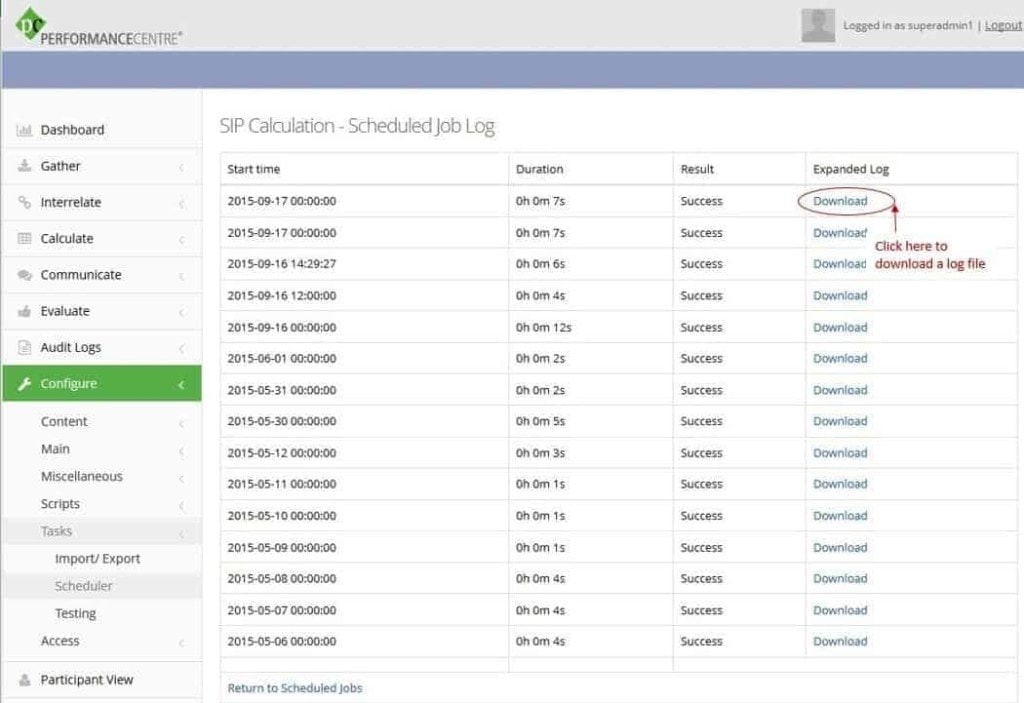 New fields in PC Participant Update
Two new fields have been added to PC Participant Update template.
a) League Ladder
Assigning League Ladders to Participants was no easy task till now. Now this can be done using PC Participant Update. Just fill in Participant EID, Change Date and League Ladder name in PC Participant Update and import it. Please note that this change date wont be considered, you will be seeing '*' in place of start date in League Ladder tab in Participant Console.
b) Manager Status
Till version 5.3 of Performio, PC Participant Update used to add people to a team with the team member relationship only. But now, it enables to identify if the participant should be added as a manager or a member. We have added a new field 'Manager Status' in PC Participant Update and if 'Yes' is the value given for this, it sets the participant as Manager of team that is given in column 'Team (optional, text)'.
Additional Information in Security Log and Info Access Log
We now capture additional information under Audit Logs:
Participant log out details are now captured in Audit Logs/Security
Report details: When participant views HTML report module or downloads reports from Reports module, details are captured in Audit Logs/Info Access which includes downloaded reports name as well.
View Session Details: All the modules which participant visits during a session are captured in Audit Logs/Info Access. Access type column will show the type of module and clicking on 'View' opens more details like Module name, Participant EID, Name etc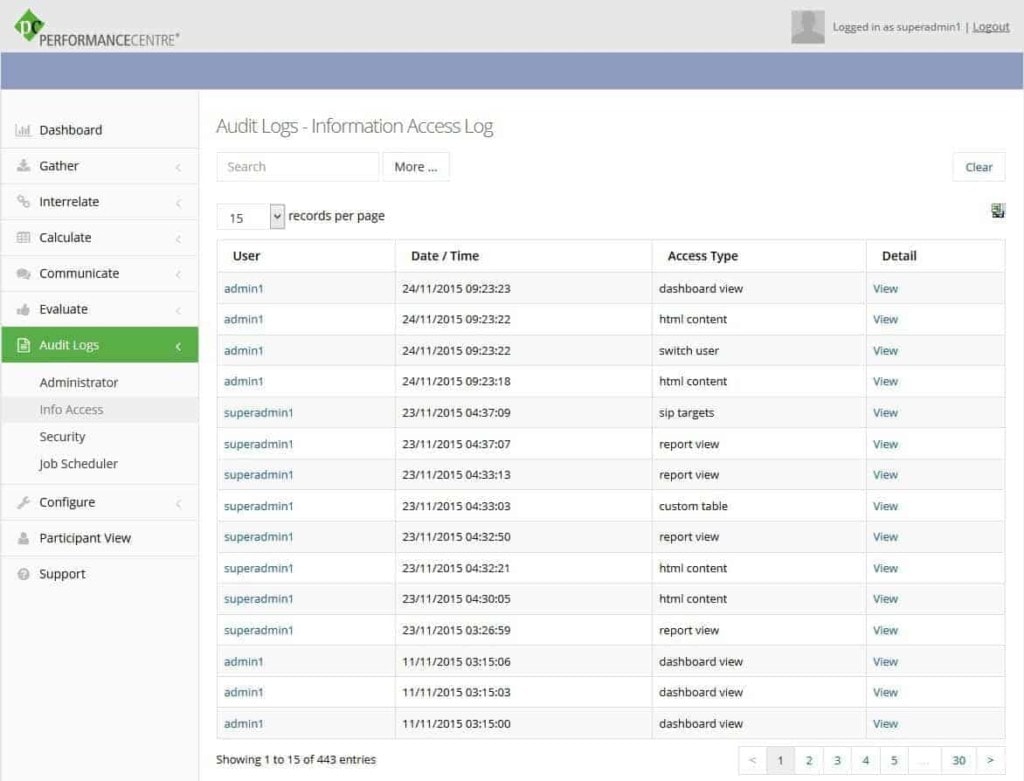 Additional options in Ad hoc Report
Ad hoc reports could only tell the team of a participant but not the role type, member or manager. Also if a participant is across multiple teams, you may want to see all the teams. We have included additional options in ad hoc report. See screenshot below.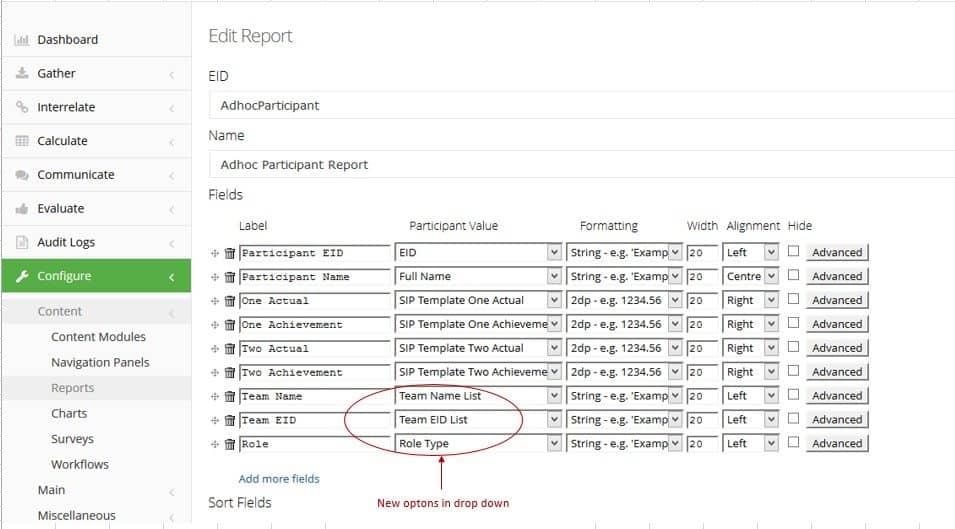 If team name list or team EID list is chosen, comma separated team names and team EIDs will be displayed in the report. If there are multiple roles for a participant in different teams, the role that he was first assigned to will be displayed in Role Type column.

Additional fields in PC Participant Export and PC Participant Export (All Teams and Territories)
PC Participant Export (All Team and Territories) has the following new fields added to it:
Role Type
Last login date
Total Logins
Team EID column per column of Team Name
Territory EID column per column of Territory Name

PC Participant Export has the following new fields added to it:
Last login date
Total Logins
Team EIDs which is a comma separated list of Team EIDs
Team Names which is a comma separated list of Team Names
Territory EIDs which is a comma separated list of Territory EIDs
Territory Names which is a comma separated list of Territory Names
Known Issues & Workarounds
Below are some of the limitations/known issues and workarounds:
Removing workflow attachments and doing next action throws error
This has been fixed in version 5.5
When added attachments are removed and then you do a submit/approve/reject, 'Oops' error gets displayed. Please try not to add attachments in a Templated Workflow that are not necessary.
In SAML SSO Config, old UUID in ACS URL gets reused if Config is changed
In the SSO config page, ACS and Login URLs have a unique ID, which we call the UUID, appended to it. This will be same for both URLs. If this page is reconfigured for a different Identity Provider, the same UUID is getting reused. This should not happen. Do the following as a workaround:
Choose blank option from dropdown for protocol
Click on Configure-Miscellaneous-Single Sign-On again so that the page is refreshed
Now choose SAML and do the configuration again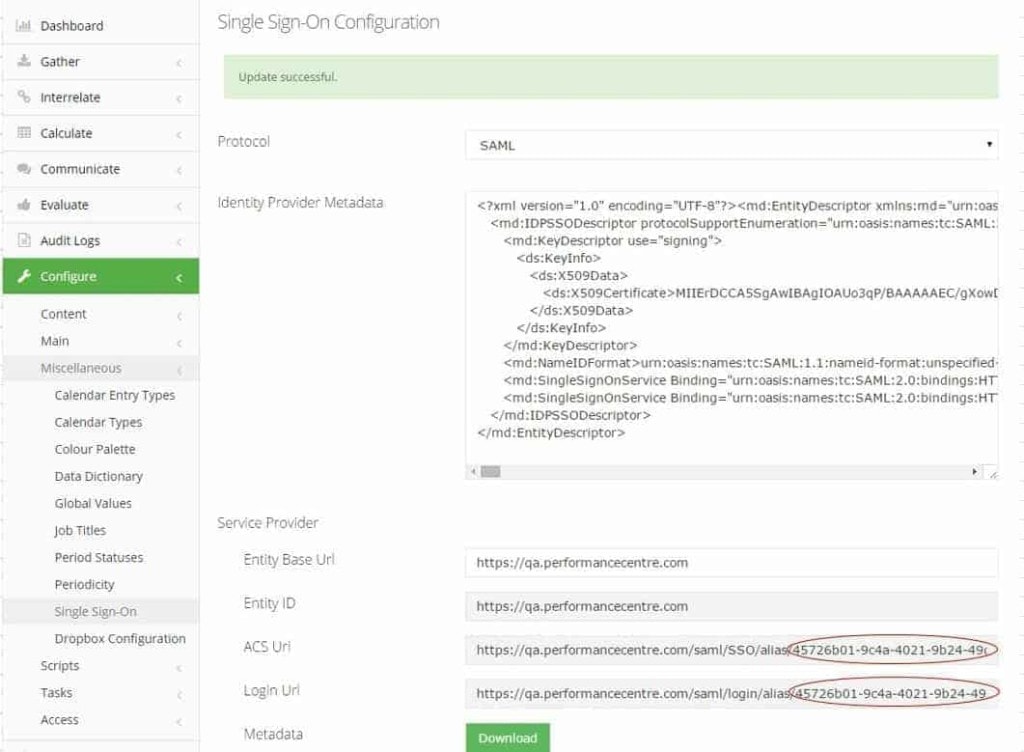 Hitting enter while adding SIP Rule Sets, Rules or Rule definitions brings user to login screen
This has been fixed in version 5.5
When you try to add a SIP Rule Set, or Rules or Rule Definitions inside a Rule Set by typing the name and then hitting 'Enter' key on keyboard, you will be taken to login screen. To avoid this, please click on the 'Add' key on these pages.
Fields go missing after validation error is displayed on workflow config page
This has been fixed in version 5.5
While configuring a templated workflow, you might forget to add PVAL sheet and fill the rest of the fields. When trying to add the workflow, validation message gets displayed saying pval sheet is required. This will take out some of the fields you had configured already like originating job titles, step job titles, etc. Please make sure that you add them back when a validation message is displayed.