What's new in Version 5.7
ToDate Transformation
The sales commission tracker has a new transformation available called toDate transformation which simplifies the QTD/STD/YTD calculations. This allows the administrator to find the quarterly, semesterly and yearly sum of records for a participant based on the data available in a custom table. The results of the calculation are written back to the same custom table. The following screenshot gives an overview of the transformation defined for a 'Sales' component.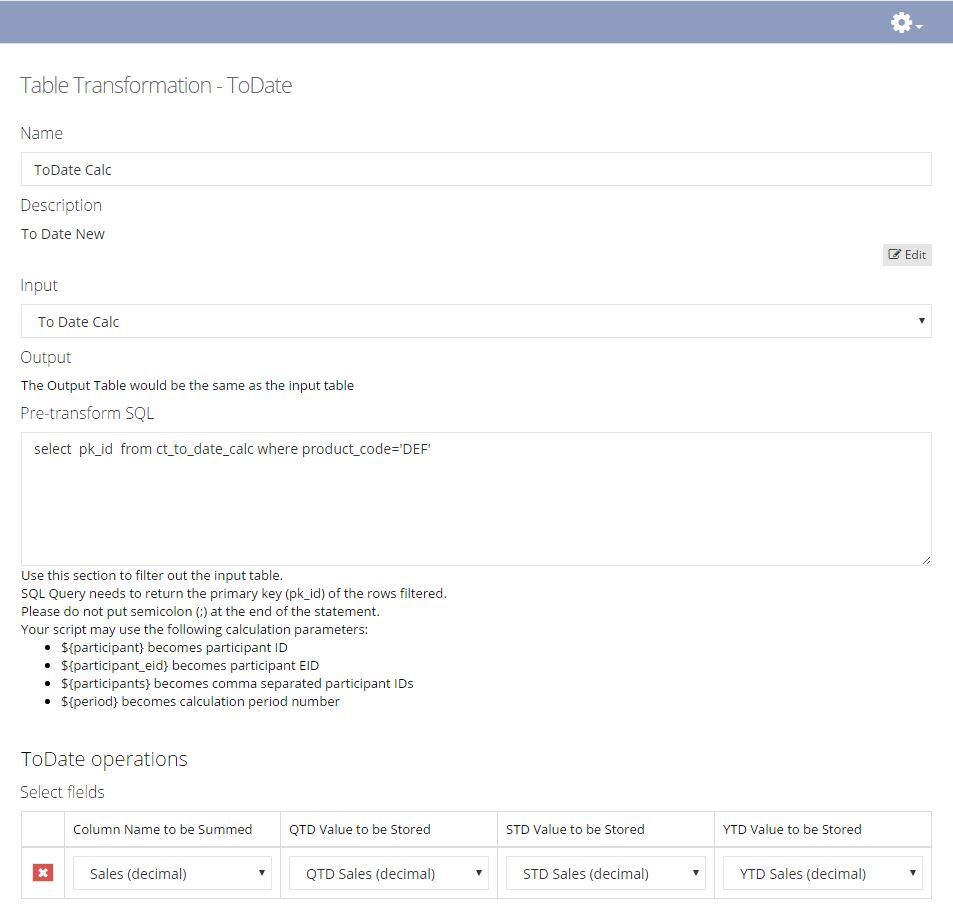 Note: QTD value to be stored/STD value to be stored/YTD value to be stored can be left blank if you need only one of them to be calculated. Also, you need not run this transformation for all periods
Restrict Email Delivery To Unauthorized Domains
We have a new system property to restrict sending emails to unauthorized email addresses. This feature will help the administrators to set a domain name in the system property which will in turn allow the users to send emails only to the specified domains. For easy access, this property is made available under Communicate/Emails/Allowed Email Domains. Leaving this field blank allows emails to be sent out to any domain.
Product Enhancements
Help Bubbles For SIP Components
You have more help bubbles available on 'Manage Plans' page which gives you a better idea on how to configure a sales incentive plan.
Delete Functionality For Custom Table Module
While defining a custom table module for the participant, the admin can now enable/disable delete option for individual records.
Validation For Participant Modules
The following validation has been added to all the participant modules.
EID cannot be left blank
EID cannot have special characters
Duplicate EIDs not allowed for participant modules
There are specific validation rules for modules like SIP targets and custom table module. But the above rules mentioned are applicable to all the modules.
Date Stamp On The Survey Report
The timestamp displayed in the survey result is recorded in the report when you download all results