What's new in Version 5.7.6
Salesforce Connector
In version 5.7.6 we have introduced a new menu item under our Cog menu called Salesforce Connector.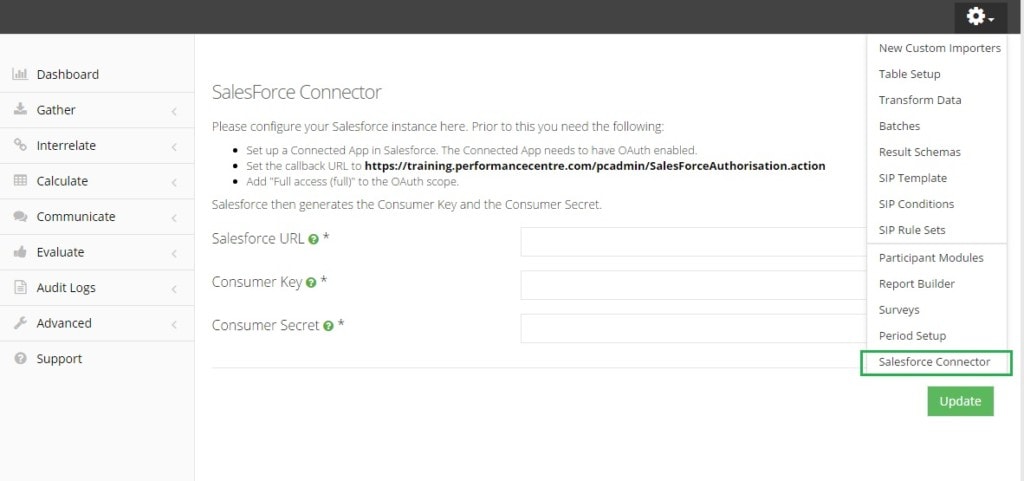 The 3 fields in the above screenshot have to be filled with details from the connected app in Salesforce. Once this is set up, you can import Opportunity Data from Salesforce to one of the Custom Tables in Performio.
A new button is added in the Gather/Import Data page called 'Import Opportunity Data'. Clicking this button will load a CSV file which can then be imported to any of the custom tables, provided the column headings of the file matches with the column names specified in the custom importer.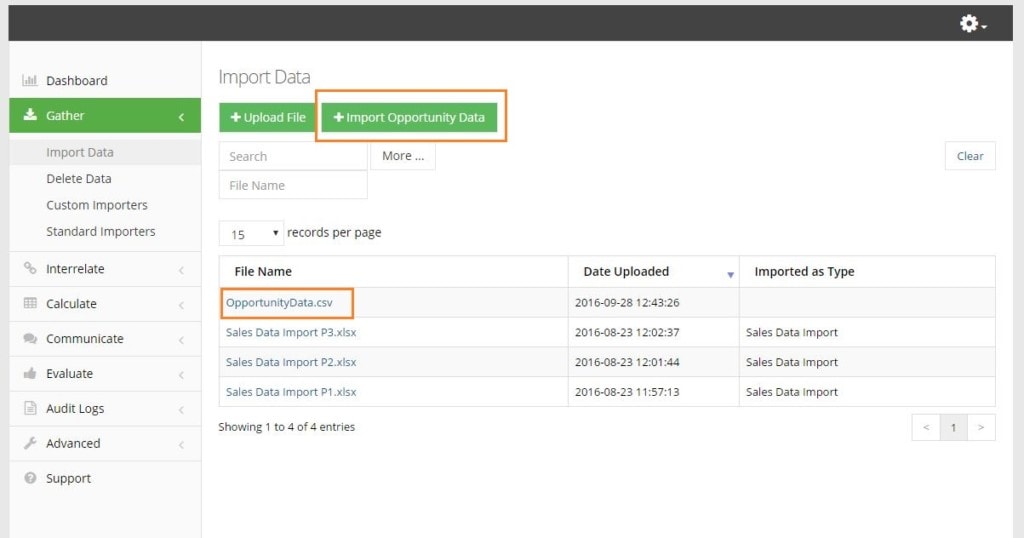 This new feature can be turned on and off by a system property - enableFeatureSalesforceOpportunityDataImport.
Batches
Until version 5.7.5, transformations had to be added to a transformation batch to access them from Run Calculation page. In this new version, we are removing Transformation batches and are introducing a new feature called 'Batches'. A batch can have table transformation, SIP Calculation or Component Calculation, Scripted Calculation, Leaderboards calculations, etc. It can accommodate any type of calculation or even another batch inside it.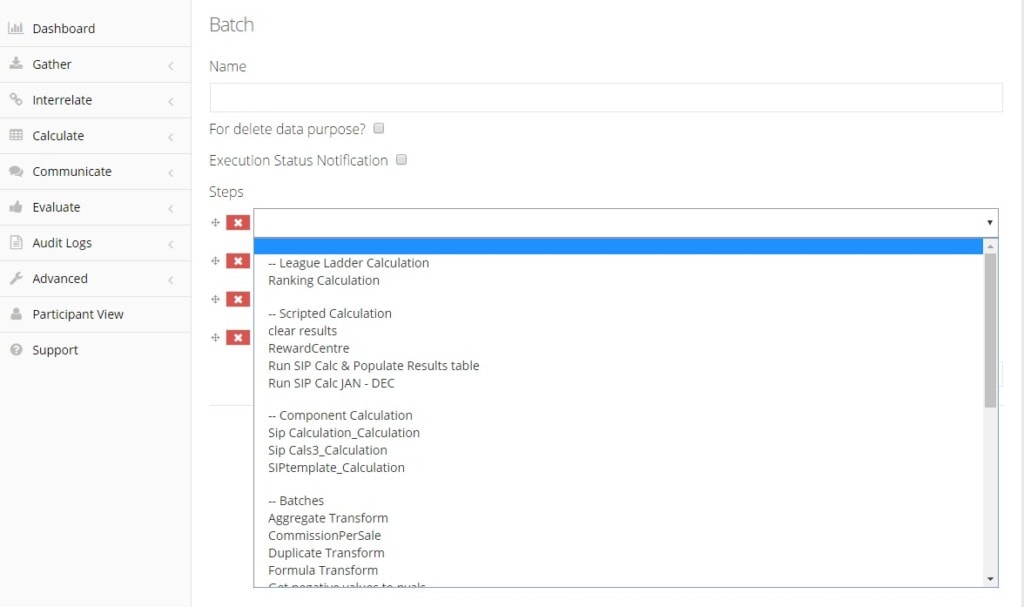 Additionally, you can configure emails in this batch to get notified when a calculation completes successfully or fails. This is similar to the status notification option inside scheduler jobs. The only difference is you will receive only one email after all the steps in the batch passed, or if one of the failed.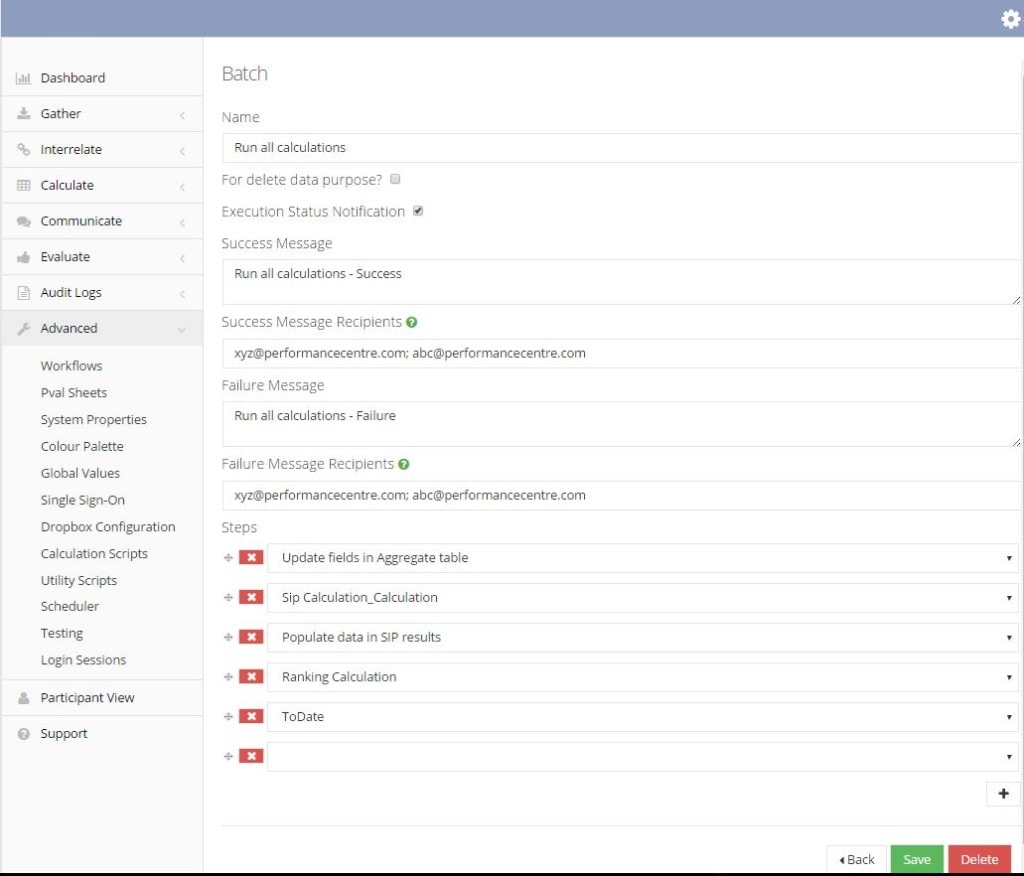 This new feature is located at the same place as Transformation Batches, under Cog menu with the new name 'Batches'.
Product Enhancements
User Profile For Administrators
Administrators can edit their personal information and add an avatar in the user accounts page located under Interrelate/Participants/User Accounts. Shortcut to this page is to click on the logged in username on top right corner.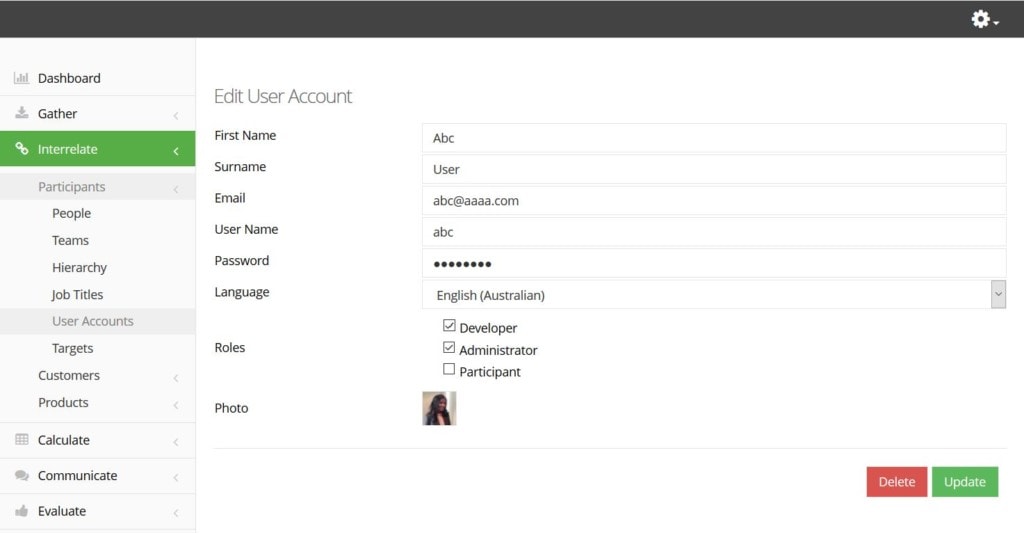 Audit Log Entries For Every Change Made In SIP Rulesets & Conditions
Every action made in the SIP conditions, rules or rulesets will create an entry in audit logs.
Inline Editing Of Custom Table Module
The additional configuration option is added inside the Custom Table module under Cog menu - Participant Modules for enabling Inline Editing of records in the table. This works for fields in a custom table that have a foreign key associated with it.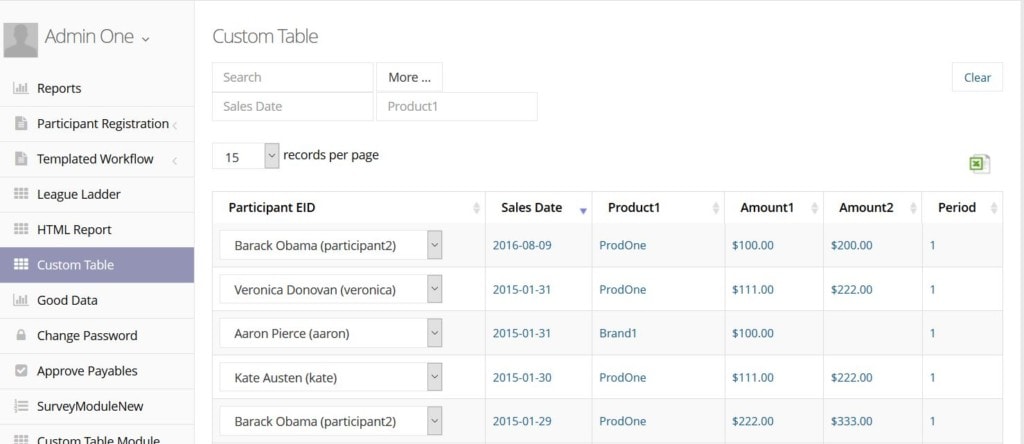 EIDs Instead Of Names In Drop Downs For Reports And Participant Modules
In Participant Modules, if you were to choose a parent module, you will now see EIDs of other modules instead of their names. Similarly when selecting a report in Inline report module or HTML report module and also when generating reports from Evaluate/Admin reports or from Participant Console you will see EIDs of reports and not their name.
This will avoid the confusion when selecting reports/participant modules from drop down if they more than one option in drop down has same name.
Removed Page Scroll When Navigating To Sub-Menu Items
At least some of you might have been annoyed by the auto scrolling of the pages when navigating to sub-menu items in the side menu. We have removed that in this release.
Component Name & Number Is Displayed In PVAL Tree
In this release, we have included both component number and name in the performance value tree. See screenshot below: