What's new in Version 5.8.5
Sales Crediting Transformation
As part of the commission tracking system we have introduced a new type of transformation in this release. The main idea of having this new transformation is to credit sales to other people than just the person who made the sale: the sale should also be credited to the manager, the manager's manager and so on up the hierarchy.
Sales Crediting Transformation will help populate manager EIDs in a custom table. This custom table must have "Participant EID" column and it is for these participant EIDs that the different levels of Manger EIDs get populated. You can then create a duplicate transformation to duplicate the sales into different level managers.
You will find a new option "Create Sales Credit Transformation" in the Transform Data page. See the screenshot below for the config of this new transformation:
In the above example, 'Sales Data' table has 3 columns - Level1 EID, Level2 EID and Level3 EID. Also, this table has a Participant EID column. When you run this transformation via a batch, these three columns will get populated with Manger EIDs as per the Organization hierarchy.
If some levels have to be omitted from this, simply untick the checkbox for that level. Also, if you wish to restrict this for certain job titles only, then click on the 'Job Titles ...' button and select the ones whose manager EIDs are to be populated.
After you run this transformation through a batch, you will see the different level manager EIDs populated in the table.

This table can further be used in a duplicate transform if you wish to see the sales distributed to team members and their managers.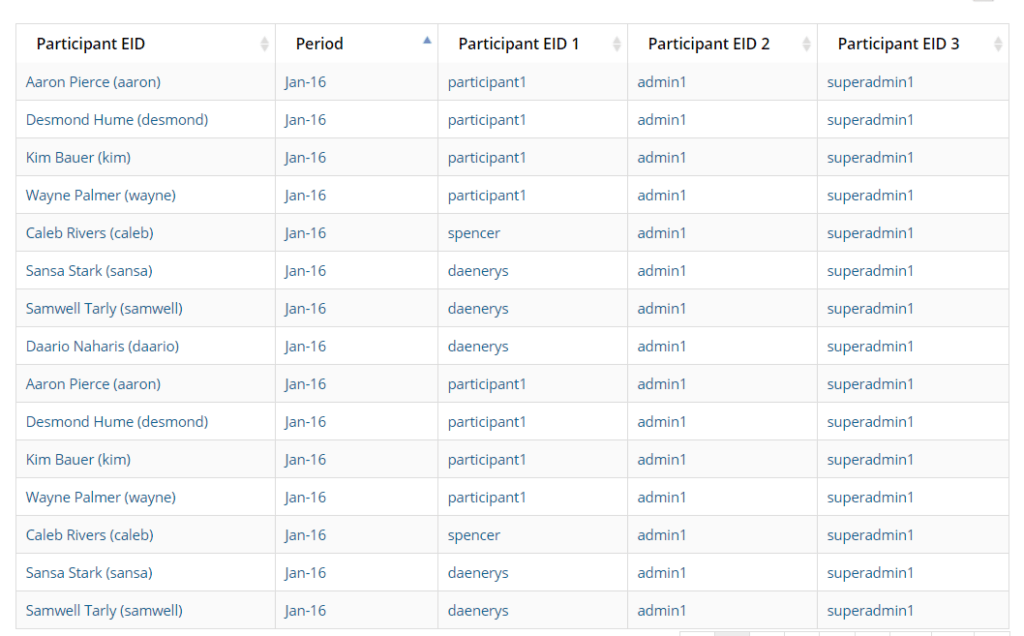 The next step will be to use this Manager EIDs in SIP to calculate commissions for different level managers based on sales roll up. We will have this extended to SIP in coming release.
Feature Tour
We are introducing a Feature Tour in Performio in order to make it easier for a new administrator to familiarize him/herself with the application.
Administrators will be taken straight to the tour on their first login. They can always re-visit the tour any time they want by clicking on the 'i' icon next to cog menu on the top right side.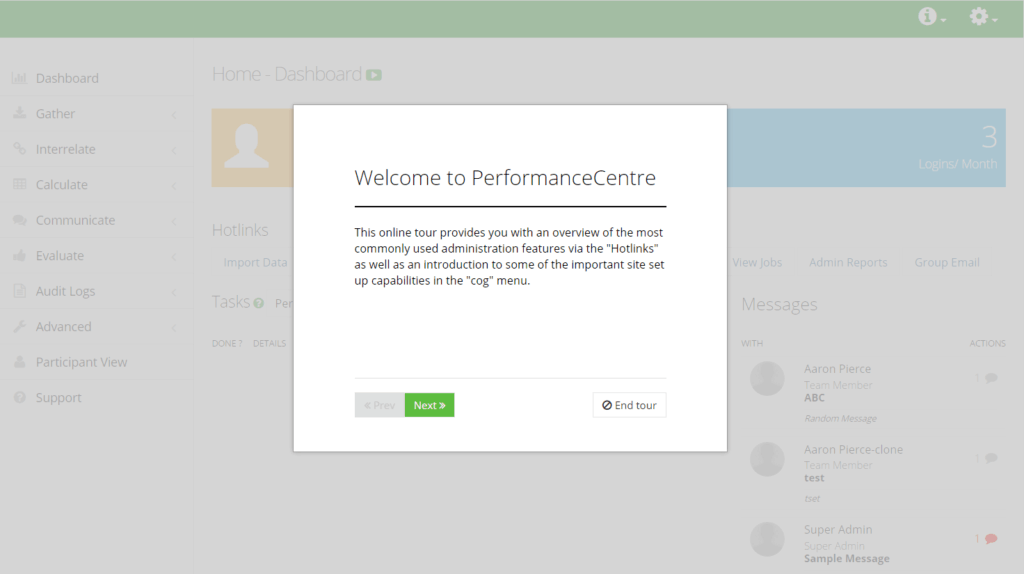 There is an option to view all the major features at once or to choose one specifically by clicking on one of the items listed.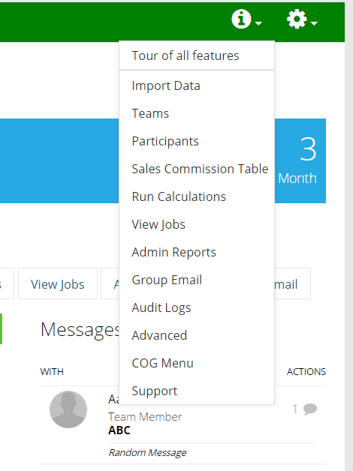 At any point, you can exit out of the tour by simply clicking the End tour button within the tour.
Product Enhancements
Hamburger Menu
Hamburger Menu in Mobile devices to extend the value of system property "brandingBannerBottomRowTextColour". Rather than always being a white hamburger menu, you will now see the a footer on hamburger menu on mobile devices.
Improved the loading time for View Jobs page
The View Jobs page under Calculate menu used to take long to load for some of our customers. We have refactored the way this page loads and the load time has been reduced considerably.
Standard Solution Design Deployment for new customers
We now have a standard set of modules in every new customer deployment that we do. This will have no impact on existing customers.