What's new in Version 5.9.4
Sales Commission Override
Do you always have to make manual adjustments to your source data that comes to Sales Commission Table (SCT)? Do you end up doing this over and over again because the adjustments/overrides are lost the next time you reload the file? Well, Sales Commission Override (SCO) table is here for you to help you save some time.
SCO will record all the adjustments or overrides done in Sales Commission Table. These changes can then be applied to SCT by running a new transformation that we are introducing in this version.
SCO table will have all the columns that are there in SCT. You can add additional columns to SCT if required and it gets added in SCO too. Similarly, delete/update columns will also get reflected in SCO. Sales Commission Override table will also capture id of an administrator who is making a change in SCT, action (add/modify/delete) and change date. This can later be used for audit purpose if needed.
SCO sits right under Commission Table in the left-hand menu and the table config page for SCO is hidden.

In order to apply the overrides from SCO table to SCT, we are using a logic which requires a unique column, and hence we introduced a new column in SCT called "Unique ID". All our customers who use SCT will have this column value as 'Null' for existing records. But if you want to make use of SCO and SCO transformation, you must update values for this Unique ID. As the name suggests, these IDs must be unique. Every manual change was done in SCT (adding/modifying or deleting) will be displayed in bold and recorded in SCO.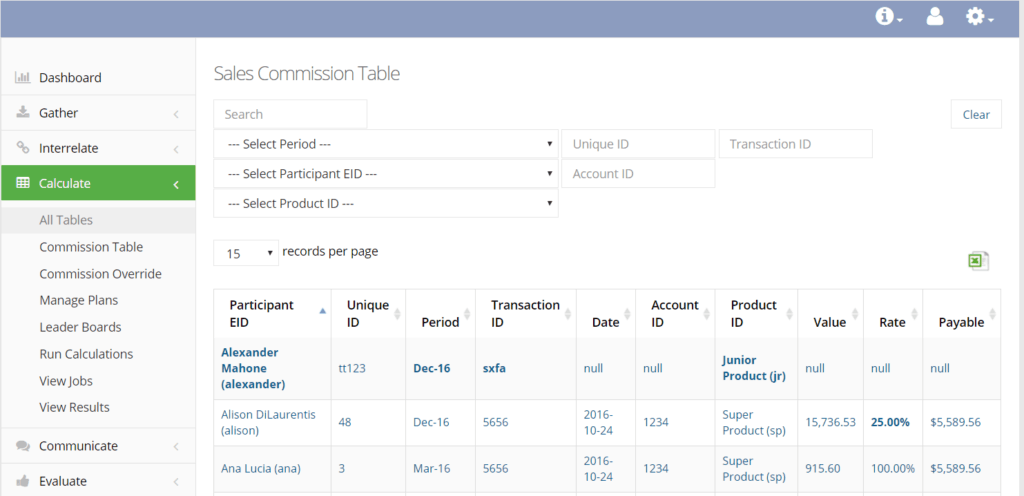 The new transformation that we introduced in this release does not require any configuration. It is a pre-existing transformation and can be easily called inside a batch. The name of the transformation is "Apply Sales Commission Override"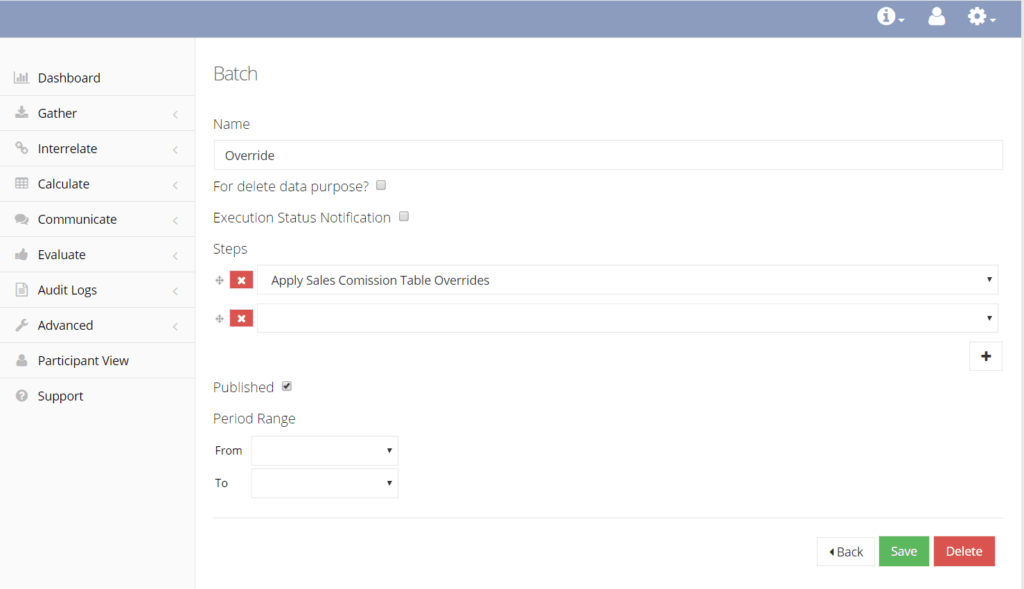 The advantage of having this transformation is that you no longer have to manually do the adjustments/overrides over and over again. Just run this through a batch and all changes recorded in SCO will be applied to SCT based on the match between Unique IDs in these two tables.
Note: This transformation runs for the entire records in SCT and not for a specific period's records.
Delete Transformation
Tired of writing SQL scripts to delete data from tables? We are introducing a new type of transformation - delete transformation, in which you can simply select the table from which data has to be deleted. You get the option to choose whether to delete the entire table or to delete records per period.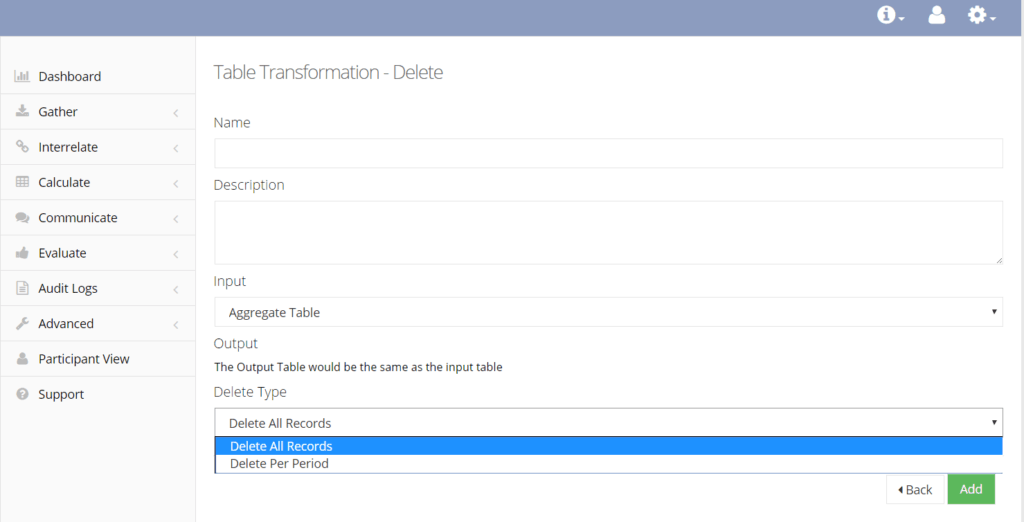 Run this batch as any other batch to delete the records from a table.
Product Enhancements & Bug Fixes
MTD Option in ToDate transformation
A new column has been added in the ToDate transformation config page for calculation of MTD values. This populates the per-period sum of values in the column selected "Column to Sum".

The results of the above transformation will populate table as below:

Exact search on Periods in Custom Table
If the period is defined as a foreign key in a custom table, selecting Jan-2017 used to display all records from Jan -2017(period 1), Oct-2017(period 10), Nov-2017(period 11) and Dec-2017(period 12). We have fixed this by doing an exact search in period number if the period is a foreign key in the custom table setup.
Note: If the period is not a foreign key, searching for period 1 will display all possible results of periods starting with 1.