What's new in Version 6.2.2
Warning message on Custom Table Modules
When an approval request is initiated in the commission system on a record in custom table module, these approval requests are available in the mailbox of the participants. This will take the participant to the detailed view of custom table record quickly.
There could be instances when the original custom table is deleted when the participant is trying to access the approval request. In this situation, the application would display the approval request, with an additional message indicating that data source has been deleted.
Message format: The record cannot be retrieved, The custom table module where the request originated has been deleted.

When the logged in participant is not allowed to view the participant module based on job title and if he is an approver, the approval request is visible from the mailbox of the participant with an additional message: You do not have permission to view the data.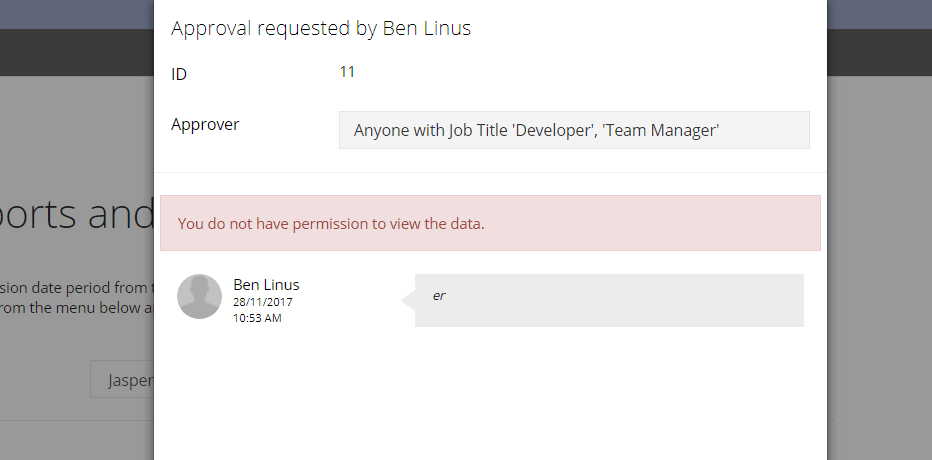 Filtering custom table records based on approval status
When a participant logs into the site, custom table module provides the detailed information about the sales and critical information regarding the commissions. When a participant is in doubt, he could raise queries or update record and issue an approval request.
When the approvals on a custom table increase rapidly, it would be troublesome to manage all the records if you are a participant in approval chain or a participant who initiates a lot of changes. To make the process simpler, approval status filtering has been introduced to swiftly toggle around different approval statuses.
Approval status pick list is available by clicking More... button to the right side of the 'Search' field. This will be only available if the custom table module is enabled with approvals.
Approval status is categorized as three of its kind.

1) My Pending Approval: The records which are modified by the current logged in participant and an approval request is initiated on the record will be identified as My Pending Approval record. A green thumb icon below the approval column in custom table module list view will help the participant to get hold of this kind of records.

2) Other Pending Approval: When a participant is trying to view a record and its detailed view fields are completely disabled with a couple of fields stricken through, then it's an indicator that the record is under approval and its pending with another participant. The Black thumb icon below approval heading indicates a record which is pending for approval with another participant.
3) My Action Action required: When an approval request is pending for approval with the current logged in a participant, approval column is indicated with a Yellow thumb icon.

All the records can be filtered based on the approval status. Export of filtered records is possible via the Excel button on the right side of the screen. Blank value selected from the drop-down of filters would export all the records