What's new in Version 6.4.0
Approval request creation on behalf of another participant
Approvals can be initiated in the sales commission tracker on behalf of a participant by another participant. To do this, the participant must be able to switch to another participant profile from top left side of the participant view.
When participant switches to another participant profile, all actions are done from then on will indicate someone else is doing action on behalf of this participant.
Eg: Manager of a team switches to a team member's profile.
Manager - Ross
Team Member - Chandler
Ross can create an approval request on behalf of Chandler on custom table modules enabled with approvals. Each approval request created will have a copy in mailbox of requester and the participant on behalf of whom the request was raised. Notification in mailbox and number decorator of unread approvals on a record will stay intact until the actual participant views the request.
Approval request created on behalf of a participant
Highlighted areas are indicators of a switched participant and the original participant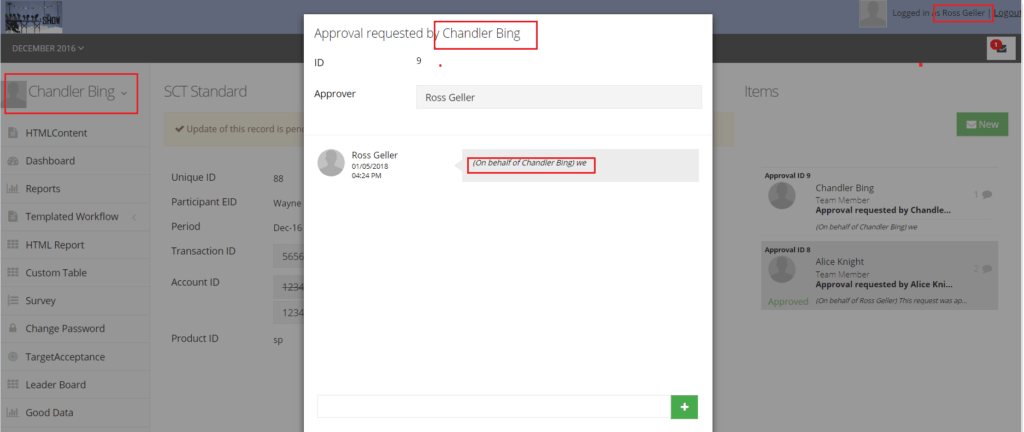 Mailbox of Ross Geller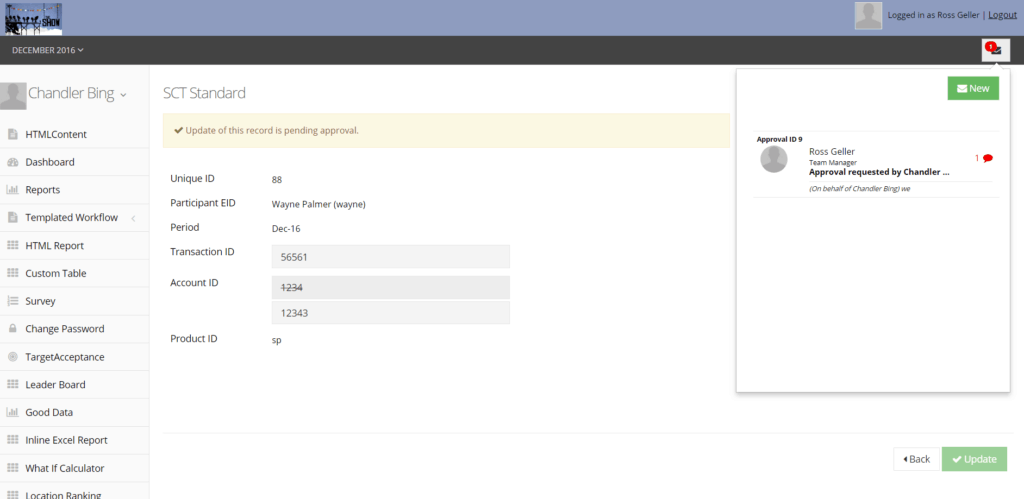 Mailbox of Chandler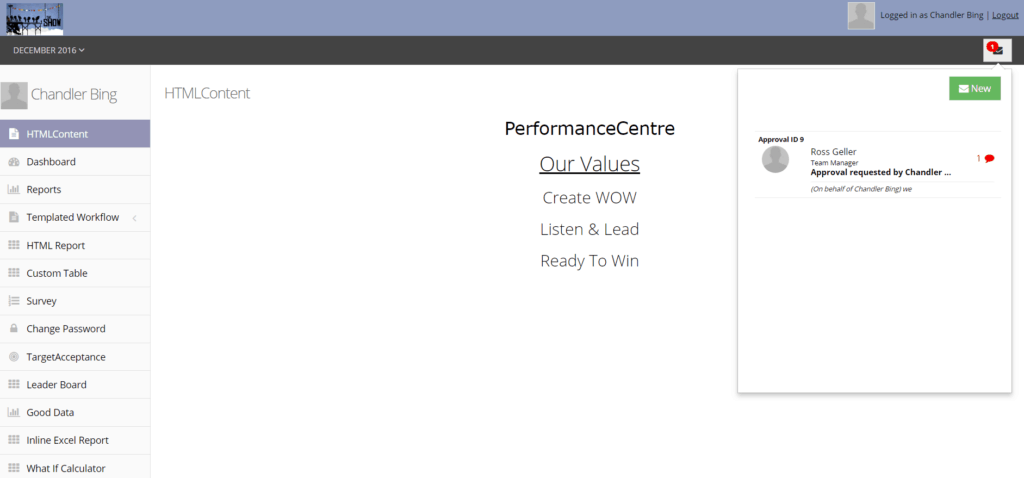 Salesforce import with selected data
Performio has been providing seamless integration with Salesforce for importing data. With this new enhancement, we are providing an option to import data based on your choice. You could now filter on a date field to import data which is most relevant to you. Below screenshot explains how you can set it up.
Please ensure that Salesforce connector is configured from the path shown in screenshot to get the option of Salesforce Opportunity Data Import in Custom Importers page

Navigation to Salesforce custom Importer: Gather -> Custom Importers -> Salesforce Opportunity Data Import

This section at the bottom of the page provides user to do the following
First field to right side of Label named Filter allows you to enter the 'date' field of Salesforce object you are planning to import. This feature is based on Date type based fields
less than field is a number field where you could enter a number indicating the day from which you want data to be filtered.
Eg: Salesforce object = Opportunity
CloseDate = Date field of Opportunity table
less than=90
today's date 01/05/2018
The above configuration will tell salesforce that when admin clicks on Import Salesforce Opportunities from Gather -> Import data, import all the opportunities which has Closedate after 31/01/2018.
By default, less than field is blank, which would import all the opportunity data in this case.
Note to Administrators
While doing import, please ensure that the count of records imported after or before applying filters does not exceed 100,000, which could result in an application error and impact other customers.
Searchable drop downs enhancement for administrator
Searchable drop downs which loads dynamically was initially implemented for Participant EID and Participant name in earlier release. With this new version, this feature is extended to the below fields
Market
Product
Product Group
Team
Territory
When a table is defined by marking any of the above fields as foreign keys, the drop downs created in administrator site will have a drop down that dynamically populates more values.
The default dropdown will have 30 values. When the user reaches 30 values by scrolling down, the next 30 values will be populated.
Note to administrators
Maximum load expected in any of the above fields is 10,000. Any values exceeding this limit could impact performance of application pages.
Product Enhancements
Custom table module sort enhanced to retain the default sort after navigating away from the module
Custom table validation scripts
Approver finding logic enhanced