What's new in Version 6.4.3
Small numbers in custom table module
Small numbers is a feature that was released earlier to Sales Commission Table for displaying statistics of table columns. This feature is now extended to custom table modules for participants to get an insight into critical columns of the data they are viewing.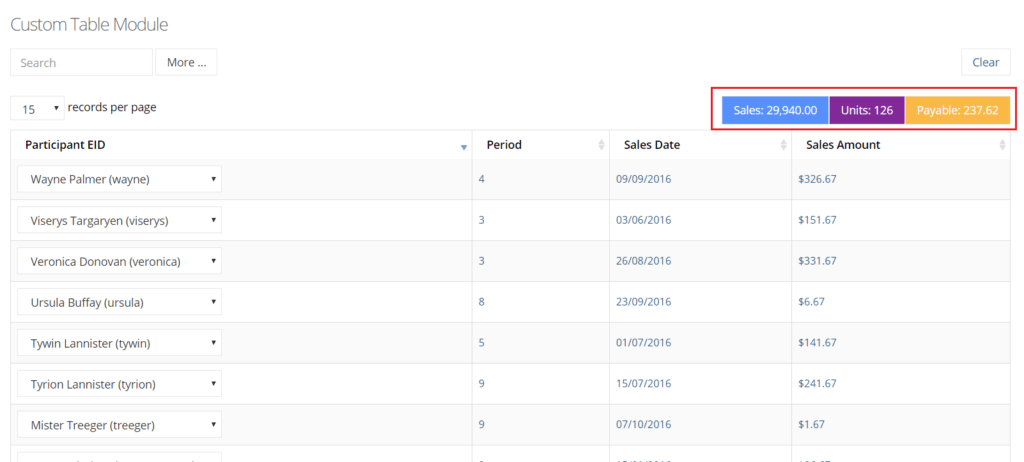 Custom table module has a new section names statistics which allows an administrator to set up the small numbers.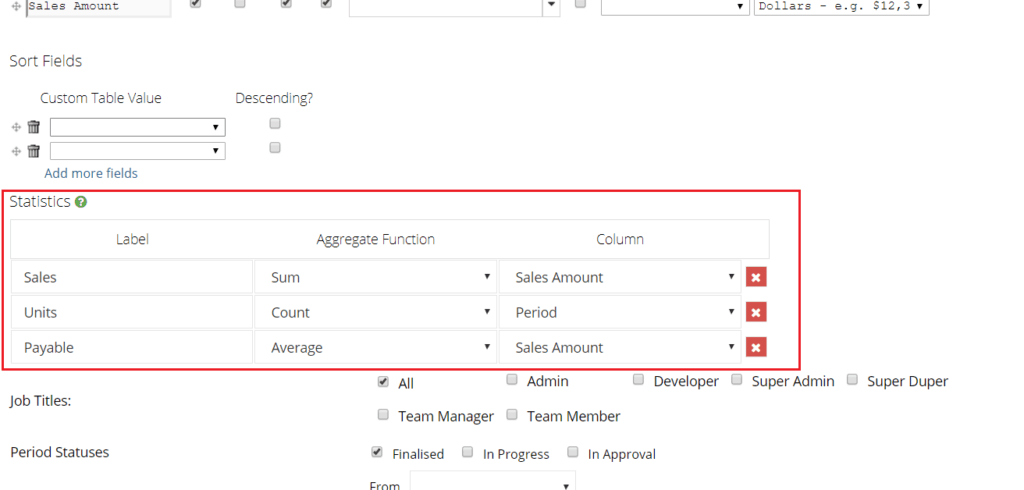 Label: This column can be used to name the fields.
Aggregate function: This column allows to select the function to be applied to the column. This feature supports three functions.
Sum: Adds all the values in column and displays output rounded to two decimal places
Count: Sum of the number of records in the column.
Average: Returns simple average of value in the column.
Column: Custom table columns are displayed in this section. The column names will be populated after selection of the aggregate function. Columns are displayed based on whether the function can be applied on values in a column.
Sum / Avg: Only columns with data types number/decimal would be available
Count: All columns would be available

Reset button can be used to clear the values from that row.
Default values
Format

Sum and Avg: Decimal with 2 decimal places
Count: Integer
Help bubble near Statistics has more info on how to do the setup.
Small numbers are adjusted based on filters applied
in custom table module by admin
search criteria are given by participants
Adhoc Admin reports displayed on UI
With this release, ad-hoc admin reports will be displayed on UI. The administrator could go to Evaluate -> Adhoc Reports to view all Adhoc Admin reports displayed on UI compared to downloading and viewing in excel.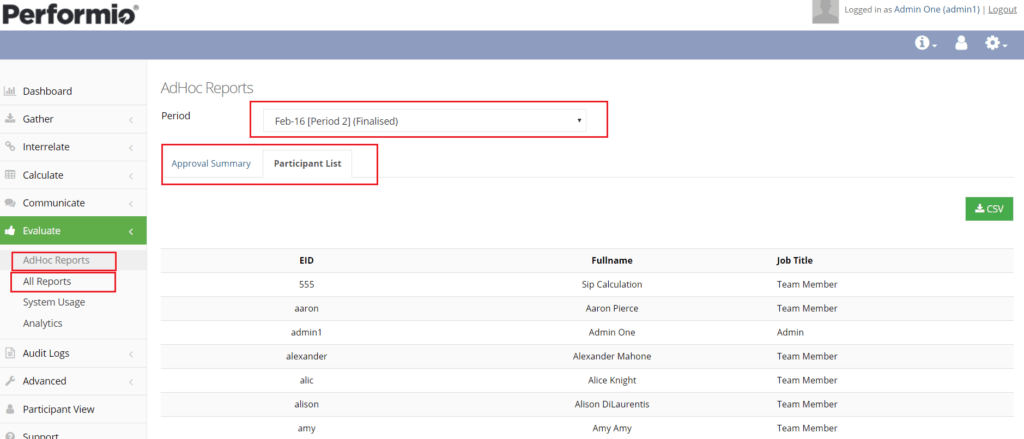 Clicking on Adhoc reports will present a screen with an option to select a period. On selecting a period, the reports available in that period will be displayed in multiple tabs similar to HTML report module. Currently, the feature displays Adhoc reports which are of type admin.
Admin Reports section is renamed as All Reports which will have all admin reports as earlier. This will include Adhoc reports and other reports.
If a certain period does not have any admin reports, a validation message will be displayed as below.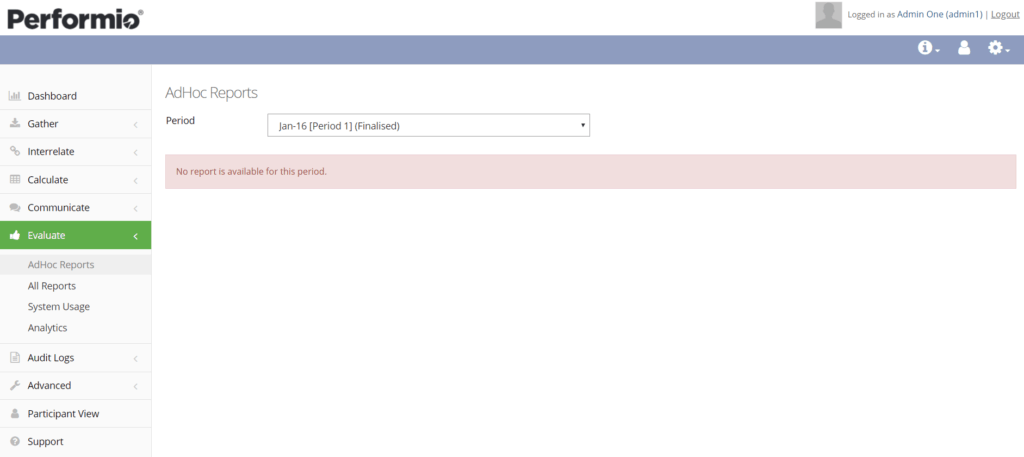 Reports will have the option to be exported from Adhoc reports page based on the configuration in Report builder page. Excel/PDF/CSV icon will be displayed accordingly on the top right corner of the screen.
Note to administrators: A loading indication is displayed on the screen until the report is completely rendered to screen. This will optimize the performance when the report is of bigger size.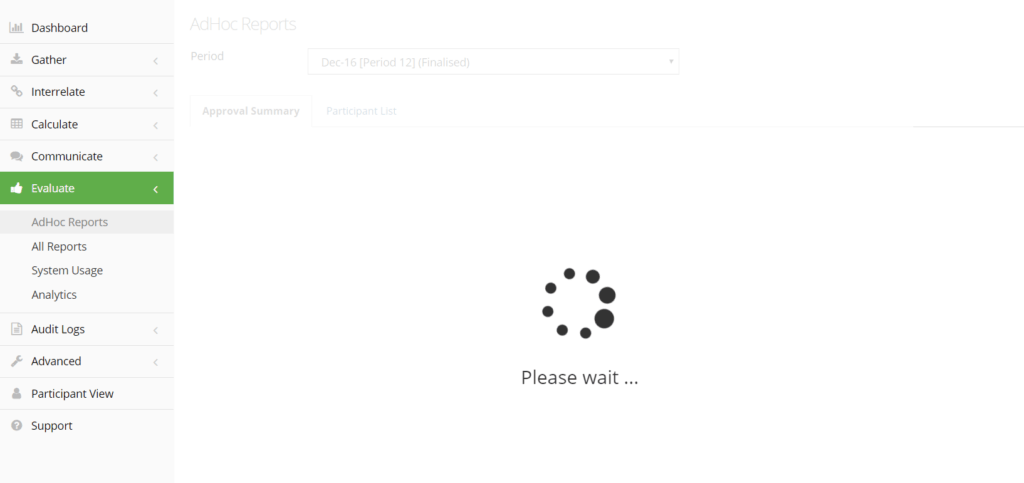 If any ad-hoc report in Participant view is being changed to Admin type, make sure to update HTML report module configuration. The report selection has to be removed/updated with a new report by the administrator.
Custom table module configuration for Add screen
Now you are able to restrict the number of fields displayed when using the 'Add' window in a custom table module. A new configuration option is available as seen in the 'Add' tick box column below.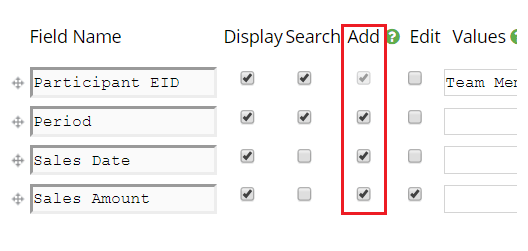 Configuration explanation
By default, all the existing columns will have the checkbox ticked. This means the field will be displayed when the Add Record Button is clicked in Custom table module.
Fields which are mandatory will be ticked by default and disabled for editing by an administrator. This is based on custom table definition. If the field is marked as not null, then it would be grayed out.

If Enable Add Data checkbox is not ticked, then all the check boxes under add column will be disabled.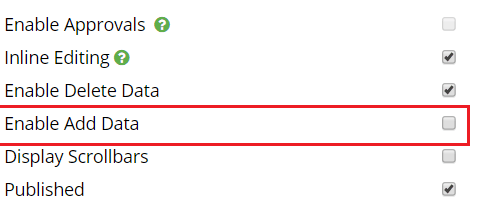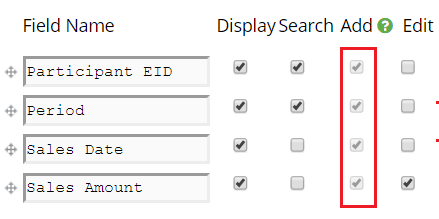 Product Enhancements
Bug fixes in Commission Per Sale component
Patch to update whitelisting of characters
Participant Sync fixes for Job title description