What's new in Version 6.4.4
Searching for a task on the ICM Dashboard
With the new enhancement to the Task Manager section in the commission system, an administrator can search a task using the Assigned drop down and search box.
The new 'Assigned' drop-down lists all the admins and a value named Unassigned. Unassigned is used to display the tasks which are not assigned to any admins during creation.
Previous Versions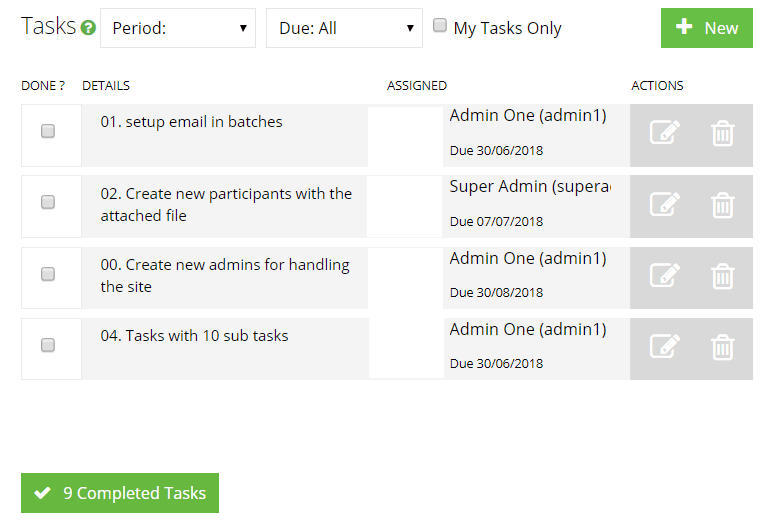 New Version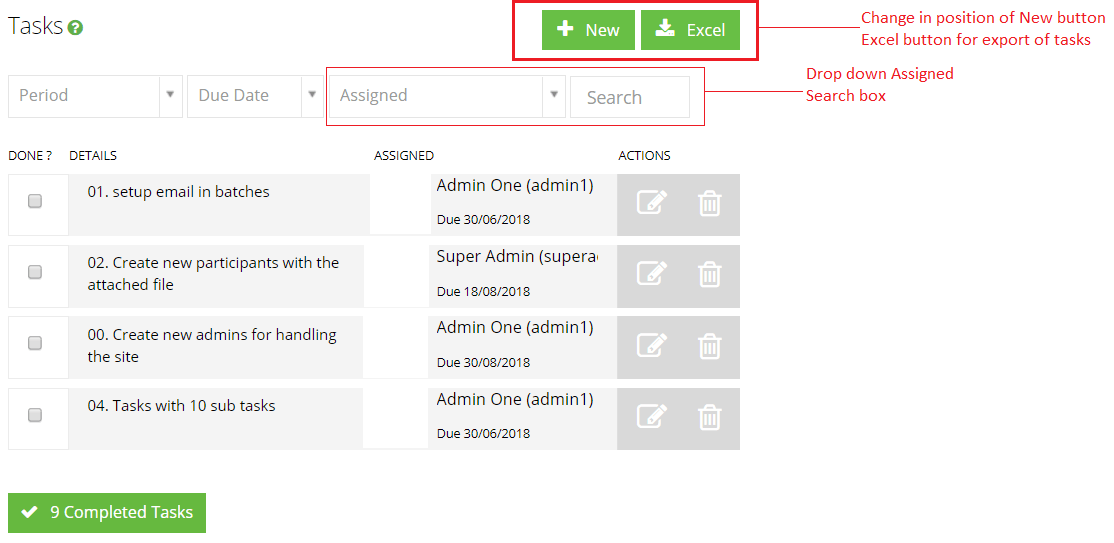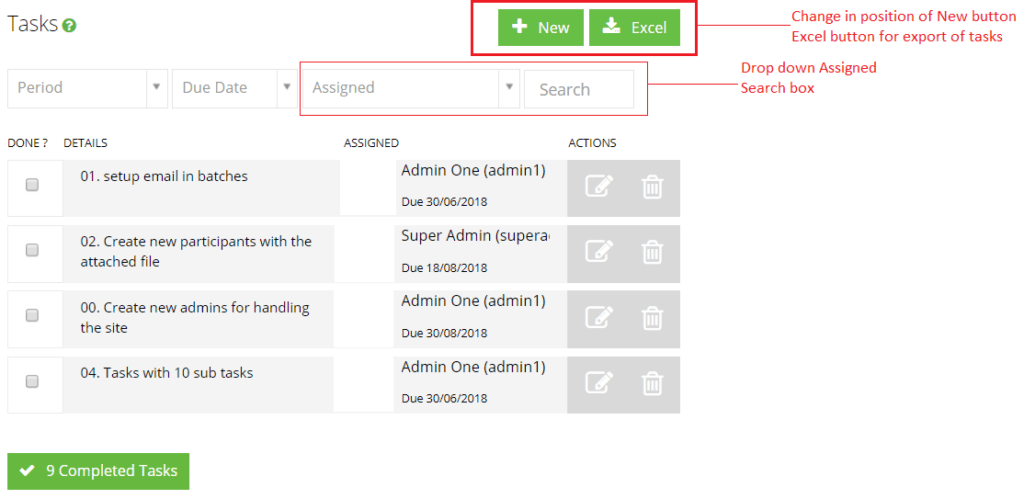 Search Function
The search returns results with matches in Description and notes. The search is applied across pending and completed tasks. The number of completed tasks gets adjusted with search criteria.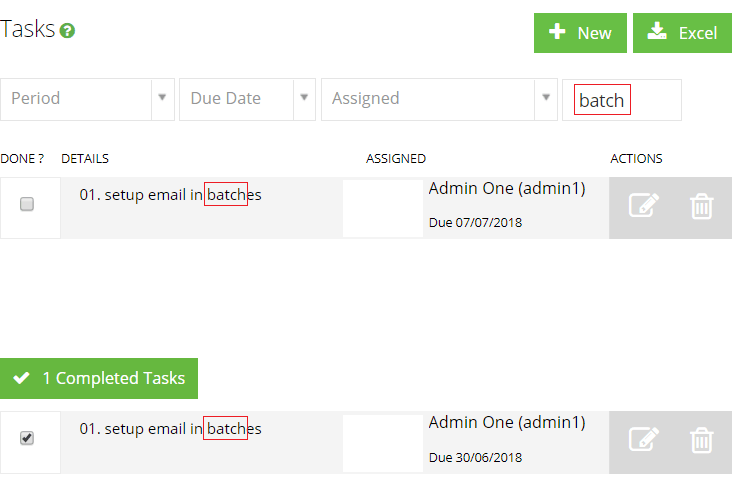 Export ICM Tasks to Excel
Administrators will now be able to export tasks into excel files. Export can be done by clicking on Excel button to the right side of New button.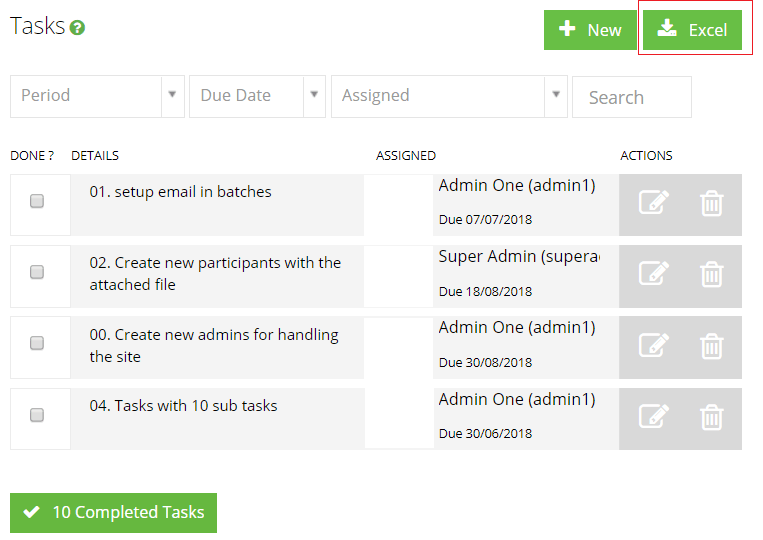 Exported tasks will have the below details.
Task Id
Assigned To
Details
Notes
Status
Period
Repeat Frequency
Created Date
Updated Date
Deleted Date
Due Date
Sub Task Details
Sub Task Status
The tasks will be arranged with Pending tasks first followed by Completed tasks
Pending tasks will be exported in the same order as they appear in task section of the dashboard. Completed tasks will be in the order of completed date and time.
If a task has subtasks, the exported file will have task IDs repeated for the number of subtasks.
| Task Id | Assigned To | Description | ... | SubTask Description | Sub Task Status |
| --- | --- | --- | --- | --- | --- |
| 10 | John Doe (jdoe) | Task 5 | ... | Sub Task 1 | Completed |
| 10 | John Doe (jdoe) | Task 5 | ... | Sub Task 2 | Pending |
| 9 | Jane Doe (jadoe) | Task 4 | ... | | |
| 8 | John Doe (jdoe) | Task 3 | ... | Another Sub Task 1 | Pending |
| 8 | John Doe (jdoe) | Task 3 | ... | Another Sub Task 2 | Completed |
| 8 | John Doe (jdoe) | Task 3 | ... | Another Sub Task 3 | Pending |
Adding and deleting multiple attachments to a task
When a task is created or edited, administrators were previously able to add a single attachment to a task. With this release, multiple attachments can be added to a task.
Attachment section towards the bottom with browse button enables the admin to attach files.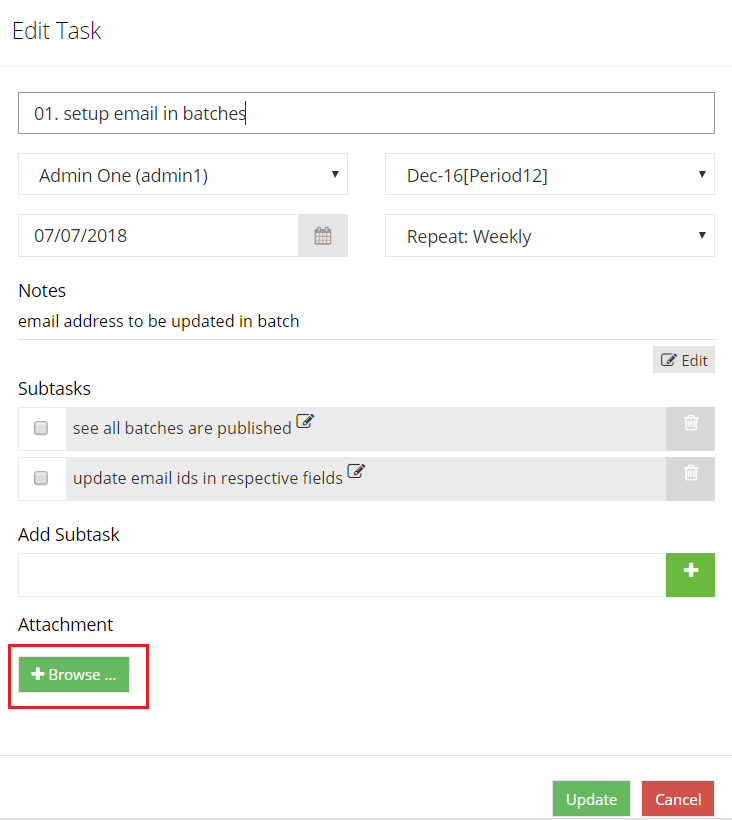 Clicking on Browse button allows you to upload files. You can select one file at a time or select multiple files together and attach to the task. If the attachment count exceeds 4, a scroll bar appears on the right side.
One file at a time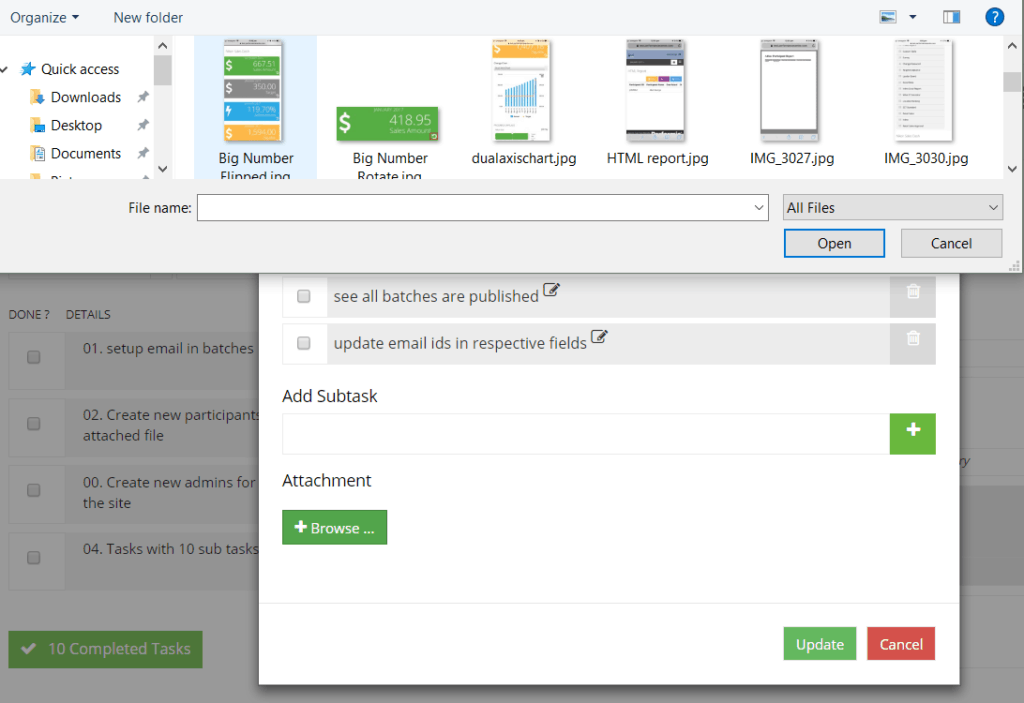 Multiple files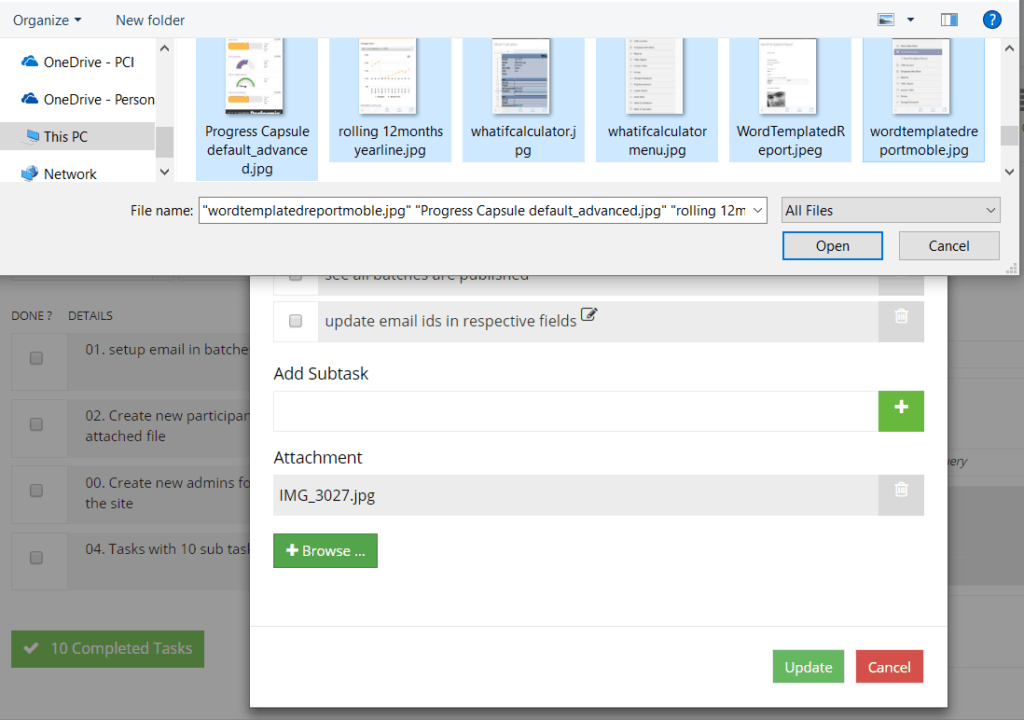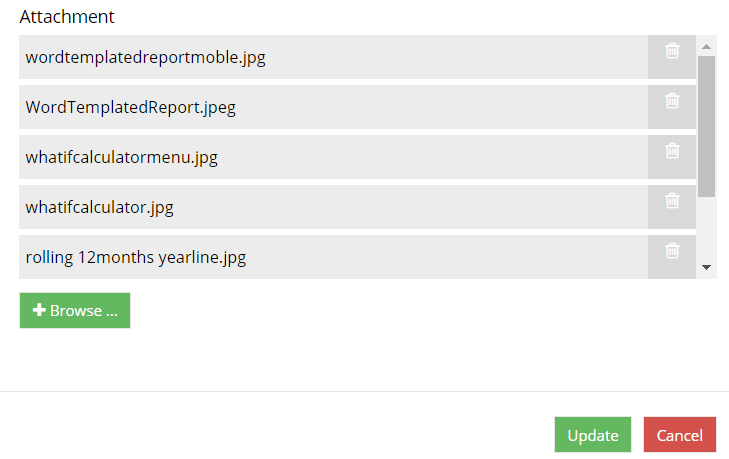 Attachments are always checked against the allowed extensions in the application. The application will reject any file outside the allowed file types and the file will not be uploaded. The error message below is displayed when the wrong file type is attached and update/add button is clicked: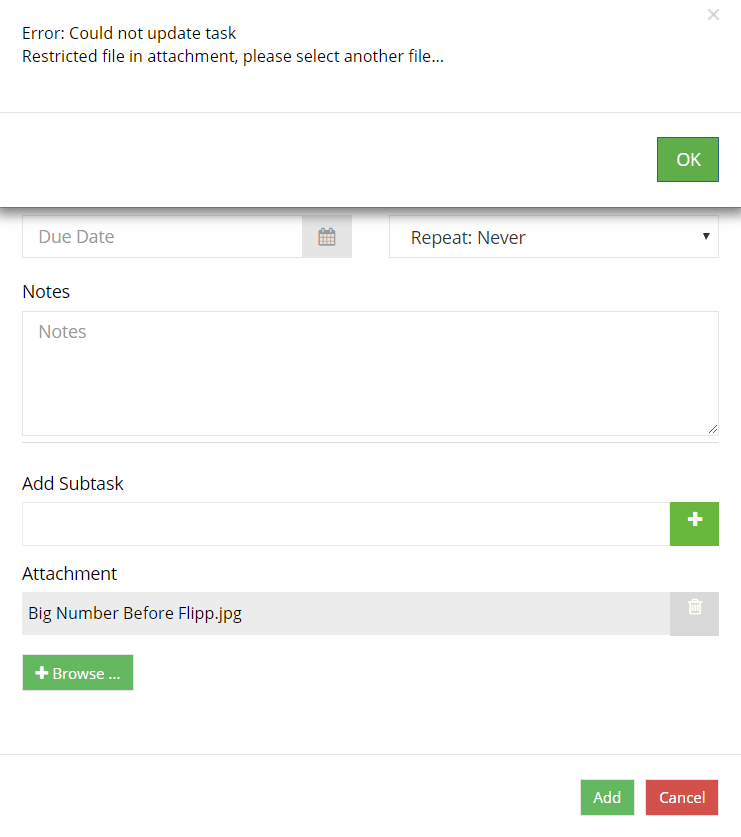 Deleting attachments
Any attachment can be deleted from the task using the new delete icon against each attachment.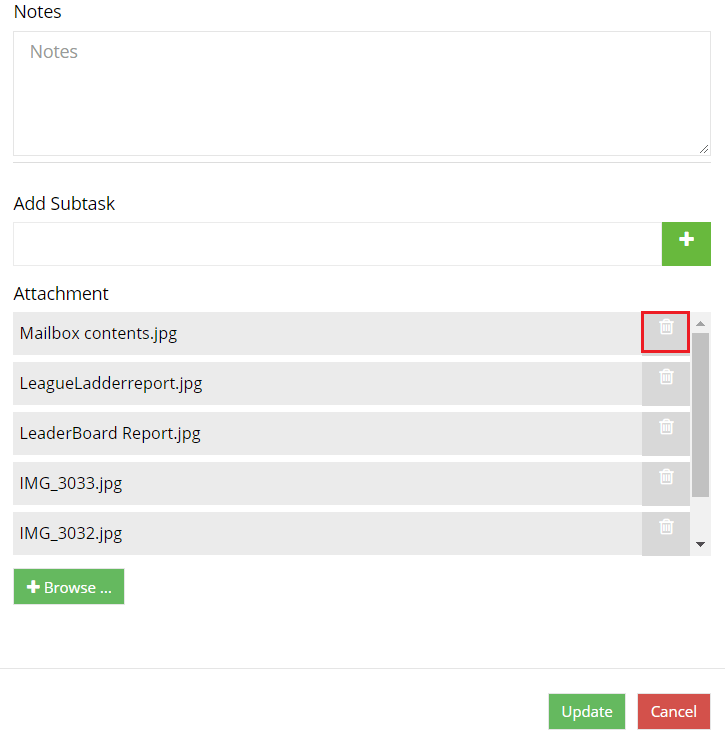 Configuring mailbox with external hosts
With this release, admins can configure mail hosts in the application which would replace the mail addresses with user's own email id.
Below system properties should be updated with the correct information. Group email and reset password options in the application can be updated with your own email id by changing below system property values.
resetPasswordEmailFrom
mailSenderEmail
Other system properties to be changed for email configurations
mailHost - email server host (ex. smtp.samplemailserver.com)
mailUser - host user email address (ex. sampleuser@samplemailserver.com)
mailPassword - host user email password (ex. samplePassword)
mailPort - email server port (ex. 888)
mailTls - allow timeouts for email server (ex.true or false)
mailConnectiontimeout - SMTP socket connection timeout value in milliseconds. (ex. 600000)
mailTimeout - SMTP socket read timeout value in milliseconds (ex. 600000)
Product Enhancements
Adhoc reports in admin page optimized for all screen resolutions