What's new in Version 6.5.2
Approval Records in Sales Commission Override
Commission System administrators will now be able to use sales commission override transform to apply approved changes to Sales Commission Table.
Whenever a record in Sales Commission table is approved, it creates an entry in the Sales Commission Override table. This can be applied to the Sales Commission table by executing the Sales Commission Override transform.
Please note that this feature would work only if the record is having a unique id and if the record is approved by the final approver. Any pending approvals will be ignored when the transform is applied.
Configurations
There are no special configurations required to be done for this feature to be enabled. Any approvals done on a participant module configured with the Sales Commission table will populate SCO entries when final approval is done.

In the above screenshot, the value column contains the approved value. User column indicates the user who initiated the approval.
Restriction On OTC Overlaps
When the administrator configures OTC in participant console, there would be an alert to hint that values are overlapping in Start and End dates.
See the below screenshot for the error message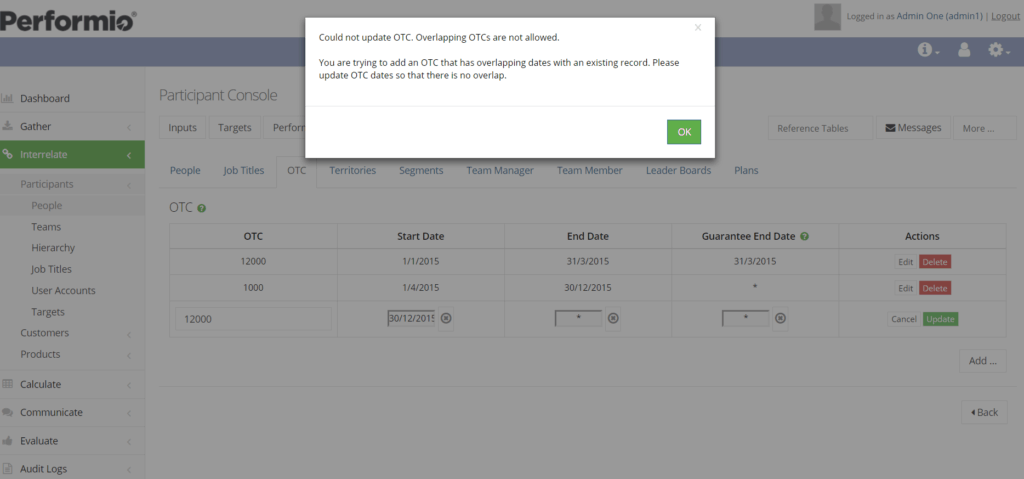 In the above example, last OTC entry overlaps with an end date of previous OTC.
Other scenarios where the error could occur are
2 end dates with *
New OTC starts before or during old OTC and has * end
New OTC starts before old OTC ends
New OTC in between old OTC
New OTC * ends after old OTC starts and before it ends
New OTC starts with * and ends either in our after old OTC
Two * start dates
Old OTC * start date, new OTC start date before old OTC end date
Product Enhancements
Approver finding mechanism was optimized for the team and the super team set up. End date validation was applied for supergroups.
Validation of configuring a script with calculation type was fixed in schedulers
Date field was fixed for Sales Commission Override table
Fixed custom table module creation for fields that are not editable
Enhanced user sessions to enable switching to relevant participants
Optimized mailbox count retrieving mechanism bring down CPU usage