What's new in Version 6.5.4
Payable Component
Sales Commission Tracker administrators will now be able to implement a new method of calculating Payable Components by turning on the feature toggle 'enableAdvancedPayableComponent' from the system properties. By default, this system property is set to 'false'.
When the feature is turned off the existing methods are used for calculating payable components
Configuration:

Features:
1. New Payable Components added to Plan Templates and Plans would trigger the new Payable component calculation method (If the Feature toggle is turned on)
2. Existing Plan Templates and Plans configured with the existing Payable Component would still be editable and will be calculated based on the existing Payable Component method.
3. Plan copy option would copy the new payable component as well.
Steps to Set up the New Payable component:
1. Navigate to COG Menu > Plan Template > Select / Create a Plan Template.Click on the 'Payable Component'.
Note to Administrators: The existing Payable Component button is rewired to add the NEW Payable Component

2. The page then navigates to 'Add Plan Payable Component' screen. The page title and heading is renamed as 'Add Payable Component'

3. As per the existing functionality, upon completing the details on the 'Add Plan Payable Component' screen and clicking the Add button, the new Payable Component is added to the template.

Changes Introduced as part of the New payable Component:
In the 'Manage Plans' section
1) OTC Applied: 'OTC Applied ' is a new field added to select the OTC type that would be used in the calculation. A help bubble for the new field is also in place for further information.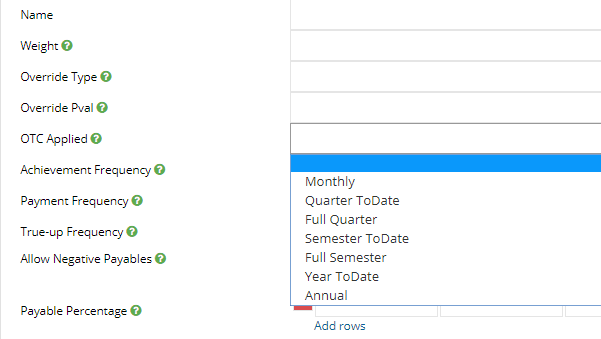 2) Achievement Frequency: 'Achievement Frequency' is a new field added to select the Measurement Frequency that would be used in the calculation.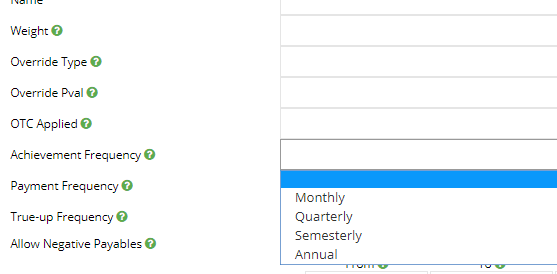 3) A help Bubble is added to the field 'Payment Frequency'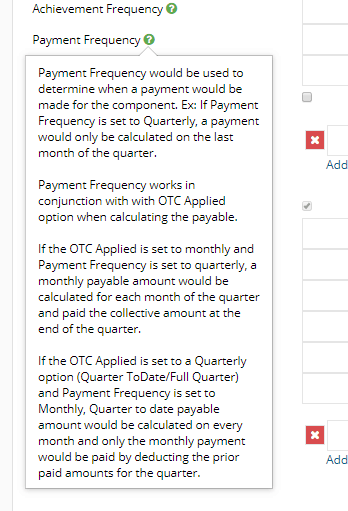 4) The field 'Payable [YTD Payable - Prior Paid]' is removed.
5) Validation for the field 'True-up Frequency' and help bubble are updated.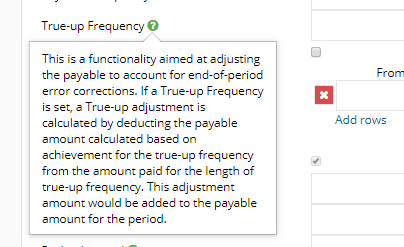 6) The field 'Allow Negative Payables' is added.

7) A notification popup is introduced for a change event of OTC Applied and Achievement Frequency.