What's new in Version 6.7.5
Transform Data - Performance Value Lookup
A new version of the Lookup Transform Data has been introduced in the compensation plan software to optimize the performance. The new Transform Data, renamed "Performance Value Lookup", replaces the original "Lookup" button upon creating a new Transform Data. Existing Lookup Transform Data defined remain on the original version and will continue to be supported.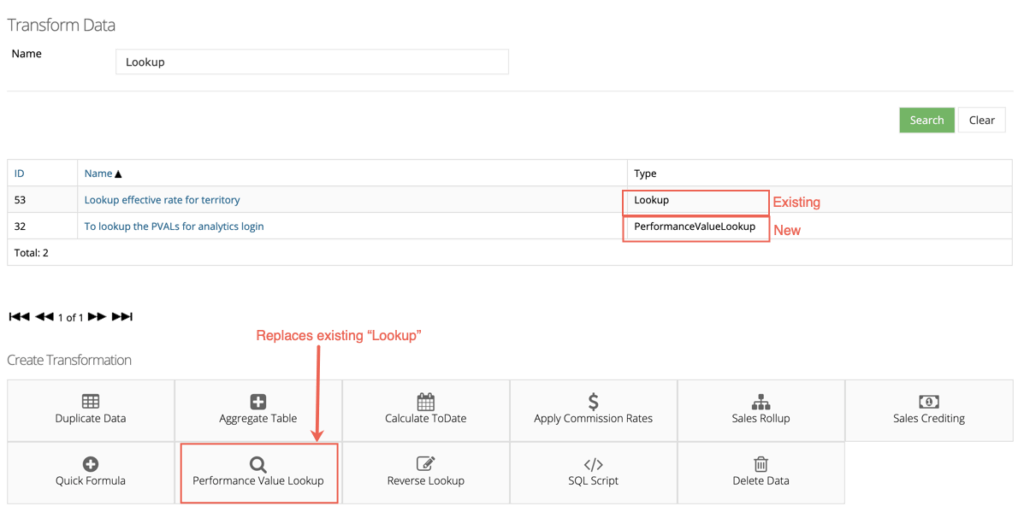 In addition to the optimized performance, the new version simplifies data entry, where the EID Field and Schema (Lookup Item) has been moved from the Lookup entry row to the header of the Transform Data, only requiring them to be defined once.
Migrating existing Lookup to version
NOTE: Please speak to your Customer Experience/Success Manager to activate this feature.
A "Migrate" button has been introduced to quickly upgrade existing Lookup Transform Data to the new Performance Value Lookup Transform Data. Note, this will only be available on Lookups defined with the same EID field and Schema (Lookup Item).
Enhancements & Bugs
Enhancements
1. Enhanced the download on Administration Tables and Custom Table Modules to extract date fields in the same format displayed online.
2. Refactored the online application to use microservices to input and upload data, and run calculations.
Bugs
1. Fixed the Import API to accept and import Salesforce Opportunity Data.
2. Fixed the magnifying glass functionality on the advanced Batch page to correctly open the related Plan Template when the EID is not the same as the Plan Name.
3. Fixed the Targets tabs on Entity pages (Participant, Team, Territory and Plan) to display the Targets record when a special character exists in the Entity's EID.
4. Fixed the API documentation to display the correct endpoint URL for Batch Processes: "../calculation/v1/batch-processes/" rather than "../calculation/v1/batch-process/"
5. Fixed the Upload API to report an appropriate HTTP error, rather than a 500 Internal Server Error, when the file size exceeds the max size limitation.
6. Updated the Upload API to expect "zuul" in the URL, in order to avoid out of memory issues.