What's new in Version 6.8.5
Enhancements
1. Enhanced the Request Approval workflow to skip an Approval level if a Participant does not exist within the team hierarchy level with the defined Approver Job Title. This is to prevent Request Approvals from being unassigned in the commission system.
If no Approvers exist for any of the defined Approval levels, then the Participant is prevented from adding, deleting or changing any details. Instead, they are prompted with a message: 'Changes to this table cannot be made as Approvers do not exist. Please contact your Administrator.'
If the final Approver does NOT exist, then the final action is performed by the previous Approver.
NOTE: Where a 'dummy' Participant currently exists as an Approver within the team hierarchy, it is advised that all existing pending Approval Requests are firstly actioned before deactivating the Participant. Once the 'dummy' Participant is deactivated, any future Approval Requests created will skip the level the Participant was representing.
2. Introduced tabs on the Administrative pages of Custom Table Module to categorize and improve field layout.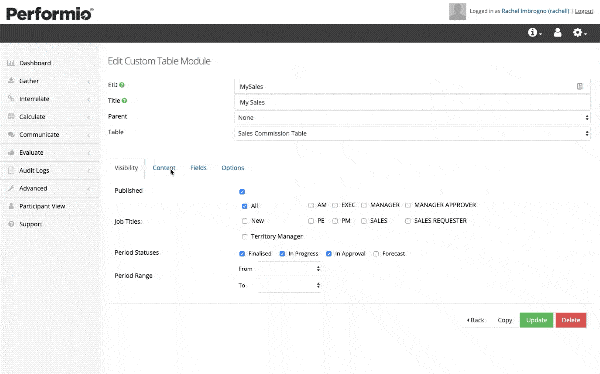 3. Optimized the method of writing logs to the application.
4. Enhanced the Compare and Migrate tool to add an audit log entry (Object = 'CompareMigrateCustomTable') in the destination environments upon migrating a Custom Table.
5. Security: Enhanced the following browser input and outputs to prevent malicious scripts from running in the user's browser:
ImportFileType#name
CustomerAccount#name
Product/ProductGroup/ProductTree#name
LeagueLadder#name
LeagueLadderMeasure#name
PvalSheet/Workflow#name
Calculation#name, description
Script#name
ScheduledJob#name, schedule
TestCase#name&description
Bugs
1. Updated the API Documentation to provide all parameters for file upload.
2. Fixed the Job Title page to save correctly when 'Enabled' is unselected. Additionally removed the disabled Job Title option from the Participant Console so new Participants cannot be assigned the Job Titles.
3. Fixed the Delete Data page to prevent a delete operation from being executed for periods that have been locked.
4. Fixed a spelling mistake in the calculation logs; updated "Skiping" to "Skipping".