What's new in Version 6.12.3
Reports - Related Objects
Administrators can now view all system objects that reference a given Report.
On each defined Report, viewed under the COG > Report Builder menu, a new "Related Objects" tab has been introduced. This tab displays a list of the below objects in the application that references the given Report in view:
Participant Module
Scheduler
Group Email Template
The related objects are listed according to the Name of the object, and a magnifying glass icon is available for Administrators to open the related object in another tab within the browser. In addition, if the object is not yet published, then a status of "Unpublished" is displayed next to the object's Name.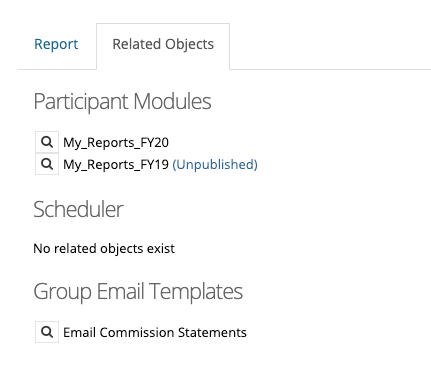 When Administrators attempt to delete a Report with at least one related object referenced, then the following error message is encountered.

The Report can only be removed once all related objects have been removed or no longer reference the given Report.
NOTE: All defined Report can also be downloaded via the Report Participant Module. This Module includes ALL Reports by default, it does not have a direct reference to individual Reports. Therefore it will not be displayed on a Report's Relate Object tab.
Bugs
1. Fixed the Report generation to handle larger Excel Report downloads without causing disk space issues.
2. Fixed the Participant Console > Plan page to validate that a Plan Start Date is defined when selecting to "Restart" a Plan.