What's new in Version 6.12.5
Enhancements
1. In previous release Version 6.12.2, the 'Related Objects' tab was introduced on the COG > Table Setup page, enabling Administrators to view system objects that reference a given Table. As part of this release, the following objects have also been included on the tab to ensure that Leader Board references are displayed:
Reports: now lists any related Leader Board Reports referencing the given table

Leader Board: now lists any related Leader Board Calculation referencing the given table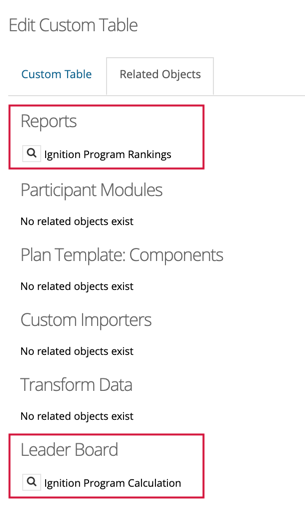 In conjunction with this change, the 'Delete' button on the Table Setup page now prevents the Table from being deleted if any of the Leader Board references exist.
Bugs
1. Fixed the Calculate > Run Calculations page to ensure an Administrator can set the 'From Period' back to blank at any point in time without causing the page to error.
2. Fixed the Gather > Delete Data page to hide the 'Period to Delete' field if the selected Delete script does not need a Period.

3. Removed the Advanced > Login Sessions page. This page was designed to report on the number of users logged into an environment, although the page was not reporting an accurate count. Since this page is very rarely used, it has been removed from the application.