First, let's look at the definition of SaaS — software as a service.
What is a Recurring Revenue model?
It's the model where companies receive and use a piece of software on a subscription basis and that software is hosted on an off-site computer. All SaaS programs fall under the umbrella of what we call today cloud computing.
It's become a very common delivery model for numerous popular pieces of business software including messaging software, CAD software, human resource management, content management, and of course sales compensation software.
How Popular Are SaaS Applications?
In 2015 the Gartner Group estimated that SaaS sales had grown 7.5 percent from the previous year and were now worth almost $150 billion in business. Another Gartner report predicted SaaS sales would grow by 20 percent through 2020.
The idea of hosting business applications in a centralized location first emerged in the 1960s. IBM and other mainframe providers tried ideas like time-sharing or utility computing. They would offer banks and other large organizations computer power and database storage.
The popularization of the Internet in the late 1990s introduced a new kind of centralized computing. Application Service Providers (ASP) offered businesses a way to reduce costs by using the specialized service offered by an ASP to perform a particular task. This service would be hosted and administered off-site.

As technology has changed, so have the demands placed on SaaS applications. Where they were once used to augment businesses ' in-house software, businesses are increasingly using these applications for their core business needs.
Examples of successful SaaS programs include Salesforce, Microsoft 365, Box, any number of Google applications, ZenDesk, DocuSign, Dropbox, and Performio.
SaaS Sales Commission Challenges
Through this webinar, we want to help you come away with three key sales compensation management skills:
Get a solid grasp of the two fundamental design challenges that need to be addressed when you design a sales compensation payment plan for recurring revenue businesses
Become familiar with the different type of design options at your disposal to address those challenges
Assess what works, what doesn't, and what's important for the objectives for your business.
The first fundamental design challenge for recurring revenue plans is figuring out how we actually measure the value of the sale (and if you can forecast commission expenses).
If you look at the screen below you can see that in January 2017, a sale motive is booked and it was actually provisioned until September and then over the course of time you can see the revenue going up and down.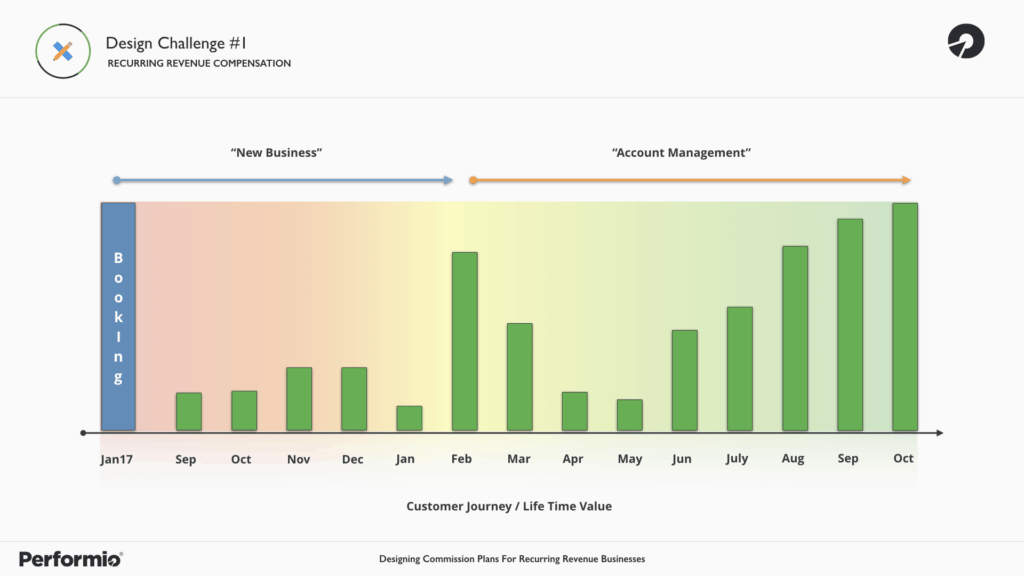 So there are a couple of fundamental questions that need to be considered not just for your compensation planning but your whole go-to-market model:
At what point does the account move from the person who won the business to account management?
How do you measure the value of the sale from a commission point of view?
The sale could be worth a lot in two years' time or not very much. So the first key question is, How do you put a value on it so that you can accurately calculate commission?
Secondly, with that lifetime value concept at what point do you actually pay? Do you wait five years to pay the salesperson? Obviously, that would not be very smart. When is the right time to payout commission?
It is going to depend on the nature of your business model, but the second design challenge here is to split or not to split sales compensation.

Let's break down this diagram. The Account Process begins with the booking, then moves to the Provisioning phase, first invoice, payment from the customer, and then subsequent invoices.
Some companies pay out commissions 25 percent at a time over the length of the process.
The first 25 percent when the sale happens.
The second 25 percent when you send the first invoice.
Another 25 percent when you receive payment.
And the final 25 percent when you send the second invoice.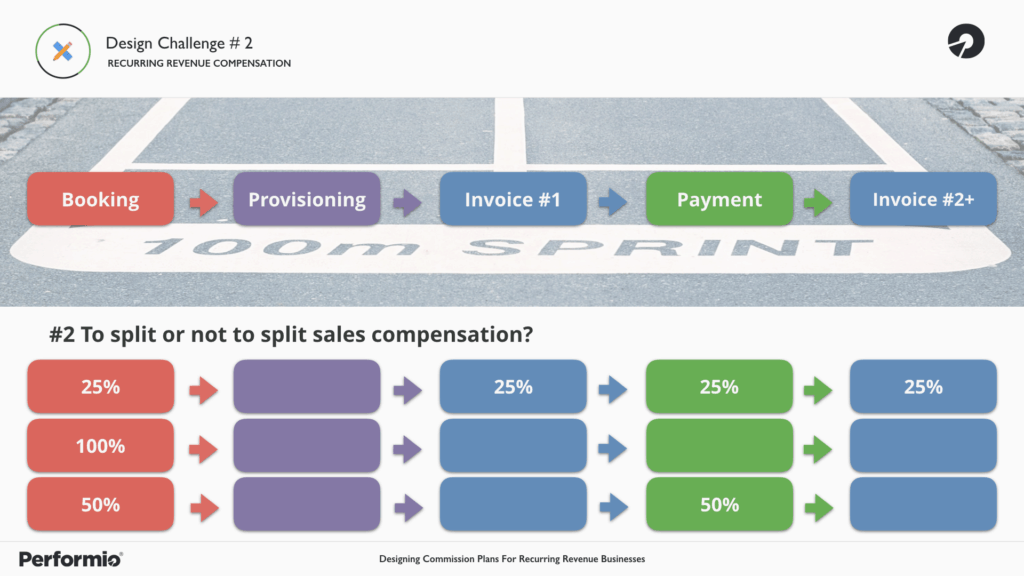 Most companies, however, pay the full commission amount upfront with caveats or modifiers or use a 50-50 model with 50 percent paid upfront at the time of the sale and the other half paid later, perhaps after provisioning.
Again, it depends on how your business model works and potentially how you want to split commissions.
So those are the two fundamental challenges to think about.
Let's just look at a bit of a worked example here to put some actual numbers behind what this might look like.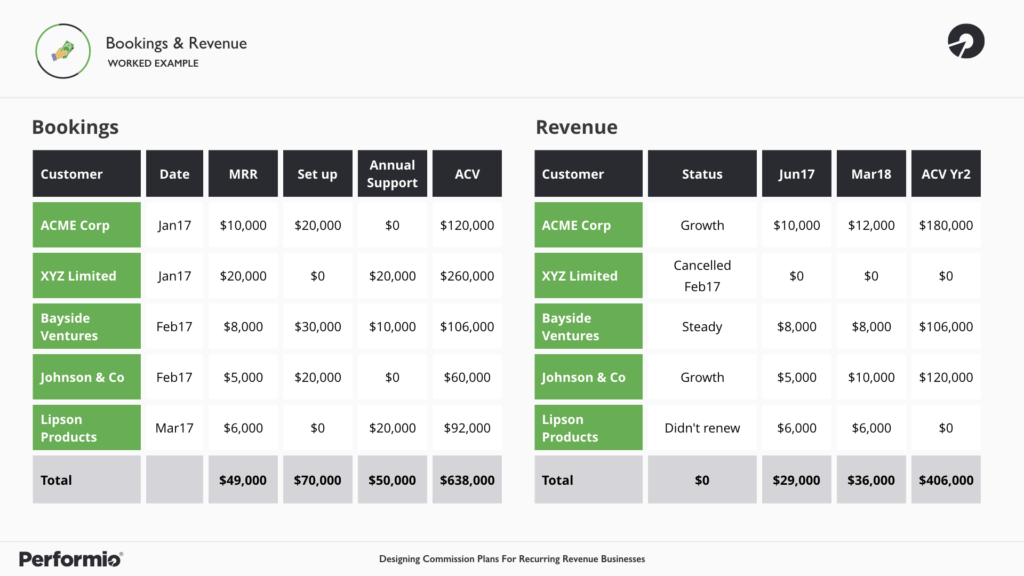 You've got an account executive, a business development guy, who has done some sales in the first quarter of the year. And let's say those sales are worth some monthly recurring revenue.
So you can see for in the slide above each one of his customers. The booking amount for XYZ Ltd. is $20,000 per month, for example. Add some setup costs and some professional services to actually set up the product, where they are actually billing this monthly revenue. And let's say there's also potentially a support contract with some of these customers.
This is how some customers approach the situation in terms of that measurement challenge. They could assignment an annual contract value to each customer, and they may or they may not include the annual setup costs. If you tend to have a wide margin on your setup, you might actually exclude that from your sales recognition.
Now let's look at the revenue. How much revenue is going to be billed for these bookings? So if you look at the slide you can see that we're going to move from June of 2017 into March of 2018 and you can see that Acme Corp. is on a 50 percent growth curve in terms of what's being forecast for the annual contract value in year two. On the other hand, XYZ Ltd. was unfortunately canceled shortly after being booked.
So this is your classic case of you've paid 100 percent commission upfront on a canceled contract. How are you going to claw that back? How does that get treated in your plan? You can see upon further examination that you've got some companies that are quite steady and another with growth potential. But you've also got Lipson Products. You are able to bill the full six months for the year 2017, but then they didn't renew at the end of March. So they're not generating any revenue going into year two.
So here's an example of some recurring revenue bookings, made upfront. And you can say they are volatile.
The annual contract value was $638,000 when all these customers were booked. But now the revenues are around $406,000, once you take into account the people who canceled their subscription or did not renew. You might recognize that as being not an uncommon case where what's booked is quite different from what's billed down the track. So how do we handle revenue?
Another thing to think about is you might have some contracts that are long-term contracts assigned to salespeople and then you have other situations where maybe some customers have aged receivables that are getting out of hand. Do you factor that into the plan as well?
You can see that it starts to snowball, all the different considerations that go into a sales compensation plan.
Leaving SaaS Sales Compensation Plans: Attainment Versus Commission
Fundamentally there are two types of models that you see out there in the market.
There is the percentage of attainment, percentage of goal or target, times, and on target commission (OTC) or on target earnings (OTE).
Then you have your classic percentage commission per sale value type plan, for instance, 20 percent of the actual contract value (ACV).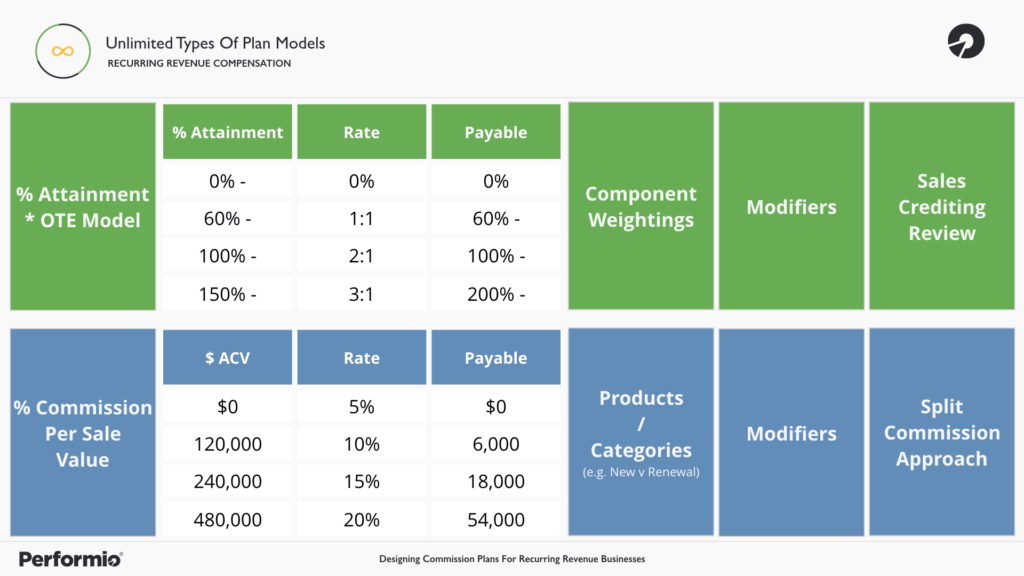 The OTE model is a classic. You might have a model that says we're not going to pay you anything up until 60 percent of attainment. Or we're going to pay two times an accelerator above a hundred percent. And so on. You have a pay curve baked in.
A benefit of the OTE model is you can slice up your own target earnings into different components. For example, you might say we're going to pay salespeople on their bookings as one component but we're also going to look at the revenue billed over the course of the year. So we're going to try and balance the upfront booking versus the ongoing revenue by slicing their OTEs into two buckets.
One of the benefits of the OTE model is how you actually measure the sale, based on things like contract lengths. We're going to give you, the salesperson, a multiplier based on the length of the contract term.
Under the commission per sale models, you could look at different rates per product. So higher-margin products might have a higher accelerator rate, or you might have categories such as new versus renewal. Typically you might see maybe a 10 percent rate for new business but only a one or two percent rate for renewals. And then using modifiers again around gross margin, attainment might modify the commission up or down.
Another payment variation to consider is you say, "We're going to pay you that $10,000 on Bayside Ventures but we're going to pay 50 percent upon the booking and 50 percent at first invoice." Or maybe 50 percent at the end of the first year of the contract.
It depends on what's important to your business.
But you might then clawback the commission paid if the company cancels. So if Bayside cancels, you could clawback $10,900. The issue with this model is that if the salesperson is only signing a few deals a year that clawback might bring someone into negative territory, where they literally owe you sales commission. This is not desirable. If this is a potential scenario for your business, you need to think about the 50 percent upfront and the 50 percent at some point farther down the cycle or even back-ending the deal more to avoid this horrible scenario.
Another idea is true-ups for actuals. You say to the salesperson, "We're going to pay you 15 percent on Bayside, but we're actually going to true it up over time." So for example that might look something like where you have Acme Corp. which was signed at $120,000, paid a commission at 10 percent. But then in March, data from the Enterprise Resource Planning (ERP) system says it's worth $100,000 but then in December it is worth $150,000.

This is quite a sophisticated model. Some people might argue it is best practice. Again, it depends on your objectives, on how sophisticated your systems are, and whether you can actually track the annual contract value – whatever the value measurement is over time for that particular customer and that particular order.
Key Challenges
The great thing about the commission per sale model is you can say, "You're going to get 10 percent of the sale value, paid upfront or 50-50." So it is a very clear line of sight. This is one of the problems with the OTE model. The line of sight is not quite as clear as the commission per sales model.
The downside of the commission per sale model is what we tend to see is there is a universe of possibility, and most companies have more than one objective or more than one metric, you start to see multiple ways of earning a commission. So you get this complexity that builds out.
How Do You Measure the Success of Your SaaS Sales Comp Plan?
As always, you should choose the model and method that works best for your business and your business objectives.
Some of those key objectives could be:
Collect cash.
Profitable professional services.
Drive rapid run rate growth.
Align salesperson to customer success.
Discipline alignment of costs to revenue in line.
Promote teamwork between AEs and AMs.
A lot of the new objectives can conflict.

And so again the art of sales comp is to be very clear regardless of what plan you're designing for, whether it's recurring revenue or whatever. You need to be very clear on your objectives with the key stakeholders and get buy-in to those objectives. That's your first job as a sales plan sales comp designer is to get everyone to agree to the objectives you're trying to achieve.
Your second goal is, given those objectives and given the environment and given the systems you've got to use, actually design the plan to make those objectives. So the right plan for you will be driven by that.
Let Performio Help You Design Sales Compensation Plans for Your Recurring Revenue Business Model
Whatever model of payment you decide to choose, attainment or compensation value per contract, Performio can help you design a sales compensation system that will smooth over all your rough spots.
If you are serious about creating a high-performance culture in your company, Performio offers a tailored demo of our sales commission software. We invite you to give our outstanding product a try.