In SaaS firms, the talented and hard-working people on the front lines of revenue production face distinct challenges that call for thoughtful and nuanced incentive compensation plans. Their goal isn't simply "any revenue at any cost." Instead, SaaS firms must work carefully within strict revenue-recognition frameworks. They often must aim to bundle service offerings with the software subscription services they offer. And they need to hunt for multi-year deals that provide revenue stability and predictability that investors crave.
For CROs, it can be challenging to align strategic corporate goals with the sales activities to achieve those goals. Nowhere is this more than true than designing effective sales comp plans. At Performio, we've implemented hundreds of sales comp plans for SaaS companies that serve customers from small and medium-sized businesses up to enterprise organizations. That work has helped us identify common measures and components to create sample comp plans for several major revenue-facing role. These sample plans provide specific examples using popular and proven SaaS compensation metrics to jump start your comp plan designs.
A Plan for Account Executives
The primary responsibility of the AE is straightforward: close new business. While bonuses for services revenue are common, they are less important. That's because, for SaaS firms, the majority of new software revenue becomes recurring software revenue, which is more valuable than one-time services revenue. In some companies, AEs are responsible for expansion and renewal of current customers. In other organizations, this responsibility falls on the customer success team. The following plan shows how a comp plan for AEs focused on new customer business might look.
Sample Compensation Plan – Account Executive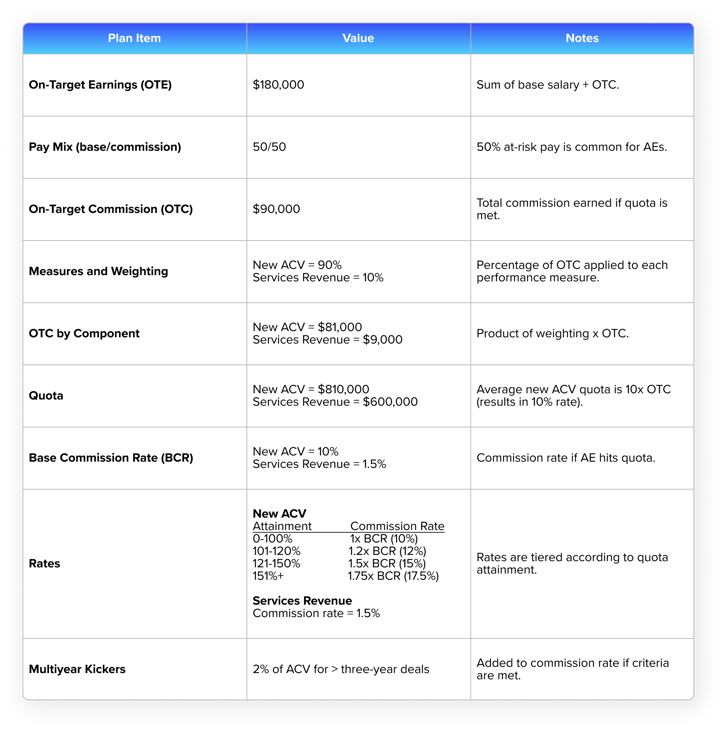 Sales Manager
In any SaaS sales organization, the sales manager plays a critical role, managing a team of account executives. As a more senior-level pro, he or she is responsible for the team's output as well as mentoring the team to develop their talent. Sales managers are usually compensated based on measures that are similar to those for account executives. However, best practices also call for a portion of the variable compensation to be tied to a Management by Objective (MBO) goal such as team achievement, forecast accuracy, or team retention.
Sample Compensation Plan – Sales Manager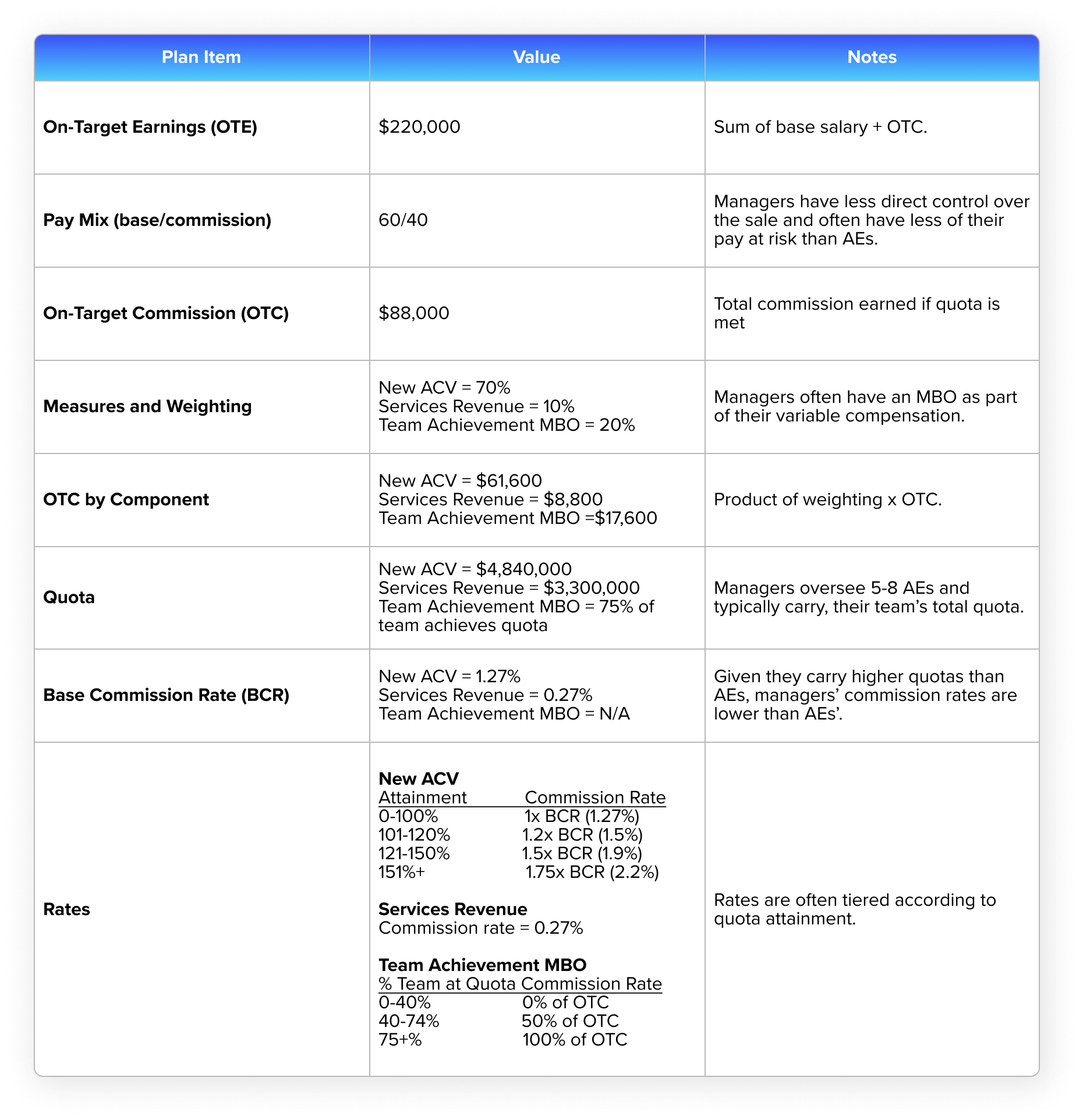 Comp Plan: Business Development Representative
Business development representatives or BDRs (sometimes called sales development reps or SDRs) are typically junior-level sales professionals working an inside role for the early stages of the sales cycle. Their primary goal is to book "first appointments" with qualified prospects and hand off qualified leads for account executives to pursue.
Since they're essentially working in an entry-level sales position, they typically have lower on-target earnings than an account executive would. The best practice is to pay BDRs based on the singular metric they control: setting up quality appointments with qualified prospects.
Some companies pay BDRs based on the revenue that subsequently arises from appointments they have arranged. However, since they have little influence over the subsequent sales outcome once the AE takes over the opportunity, this is usually a smaller component of the overall compensation.
Sample Compensation Plan – Business Development Representative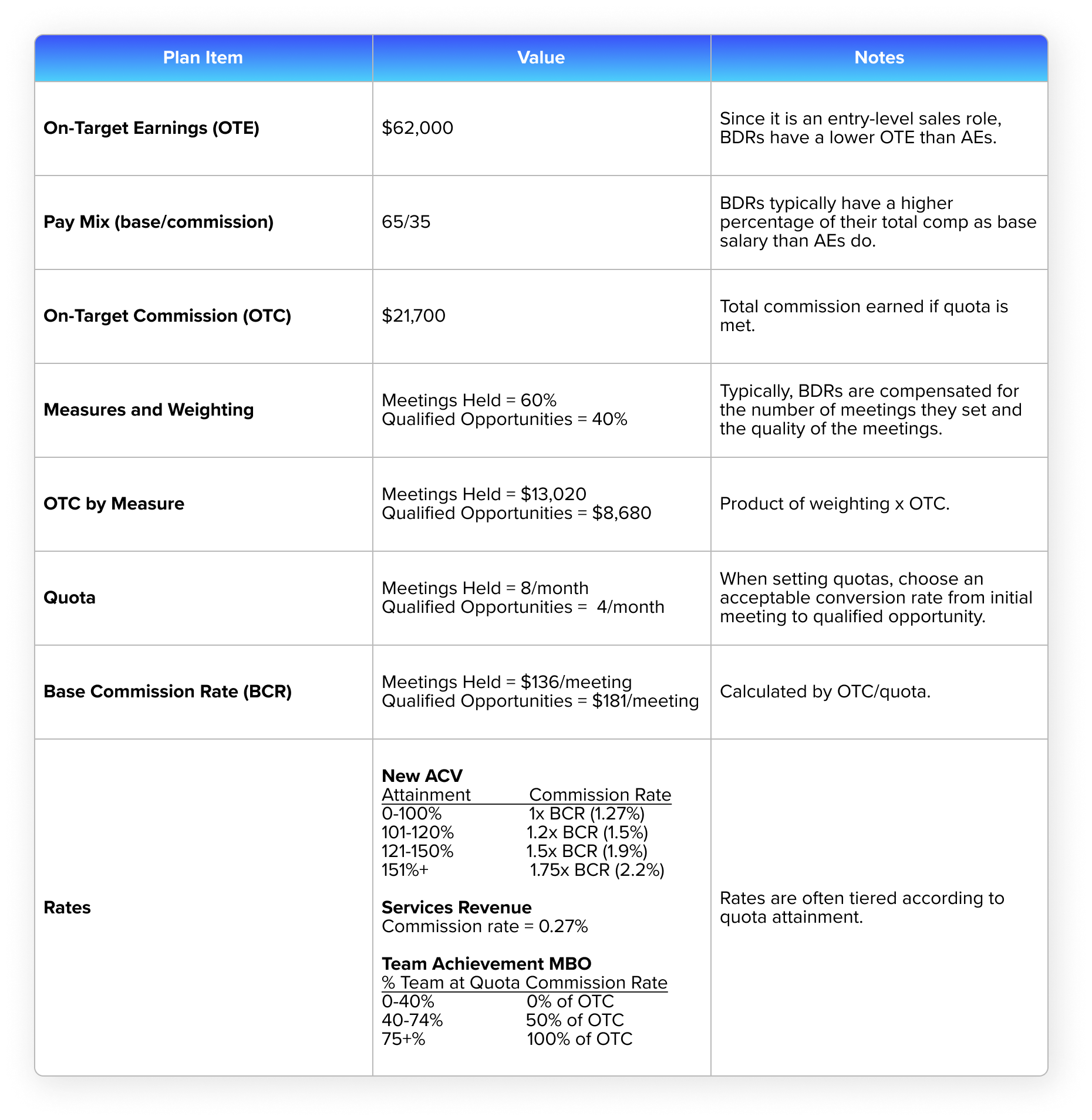 These plans are examples that represent some of the most common components we see in software incentive compensation plans. Naturally, your company has different objectives, and you will want to customize any of these plans. However, these core templates can provide a useful starting point for your ICM initiatives.